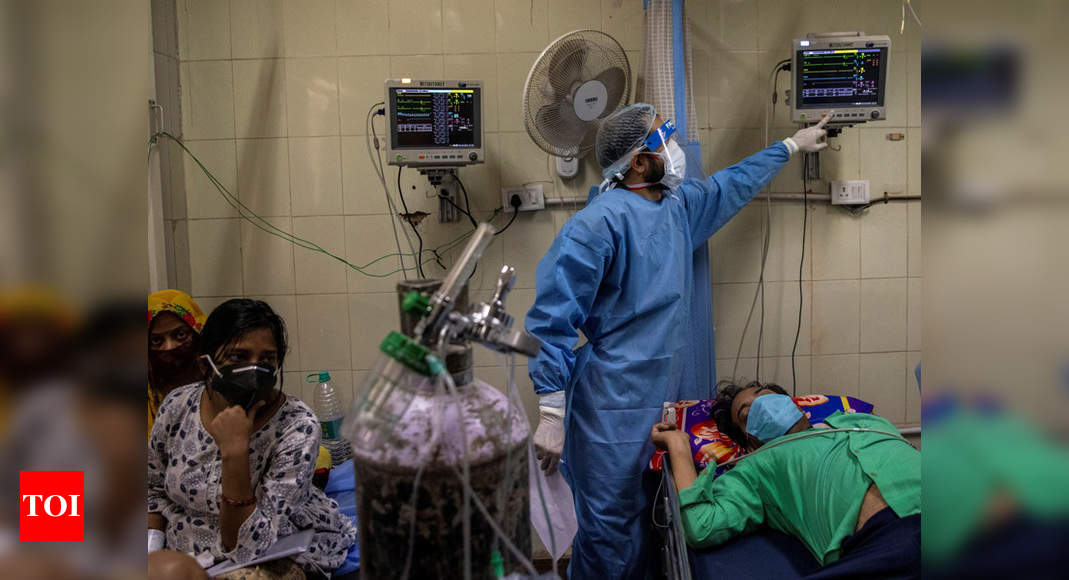 NEW DELHI: Delhi reported its highest daily peak of 25,500 coronavirus cases on Sunday with Chief Minister Arvind Kejriwal asking the Center to provide more hospital beds to deal with an unprecedented crisis.
Briefing on the Covid situation in the nation's capital, Kejriwal said that due to the rapid rise in Covid-19 infections, hospital beds and oxygen for patients are running out in the city.
"In the past 24 hours, around 25,500 cases of Covid have occurred. Before that we had about 24,000 cases, and before that we had 19,500 cases, "he said.
"We have found that the number of available beds reserved for Covid patients is rapidly decreasing. We are short of ICU beds. In Delhi, we now find ourselves with less than 100 ICU beds. We're running out of oxygen because well, "Kejriwal said.
The chief minister also pointed out that the positivity rate in Delhi rose from 24 percent to 30 percent in just 24 hours. This means that nearly 1 in 3 people tested for the coronavirus have tested positive for the infection.
Making a fervent appeal to the Center, Kejriwal said fewer than 100 intensive care beds are currently available in Delhi and the situation "is getting worse every moment".
He said he spoke to union Minister of the Interior Amit Shah Sunday morning and highlighted the need for beds for Covid patients.
"I spoke to Interior Minister Amit Shah today and informed him of our urgent need for beds and oxygen. We are in constant contact with the Center and are getting help," he said. he said.
Kejriwal, who also spoke with the Union Health Minister Harsh vardhan On Saturday, asked the Center to reserve at least 7,000 out of 10,000 beds in the hospitals it manages in Delhi as Covid beds and to ensure an immediate supply of oxygen.
Currently, only 1,800 of the central government's 10,000 hospital beds are reserved for patients with Covid-19, he said.
Last night, a private hospital reported that the oxygen shortage was so severe that they almost managed to avert a tragedy, he said.
New Delhi, which imposed a weekend curfew, is one of the worst-hit cities in India, where a second major wave of coronavirus infections is straining health infrastructure.
Delhi government asks hospitals to reserve 80% of beds for Covid patients
Separately, the Delhi government on Sunday ordered all nursing homes and private hospitals providing Covid-19-related treatment in the nation's capital to reserve at least 80% of their intensive care capacity and ward beds for patients with coronavirus.
The order issued by the medical director of nursing homes mentioned that the occupancy rate of intensive care beds and ward beds for coronavirus patients in 115 private hospitals had reached "almost 100 percent and 90 percent. hundred "respectively.
"Therefore, to further increase bed capacity, all nursing homes and private hospitals providing Covid-related treatment are advised to reserve 80% of their intensive care beds and ward beds for the treatment of patients with coronavirus, "the prescription says.
(With PTI entries)