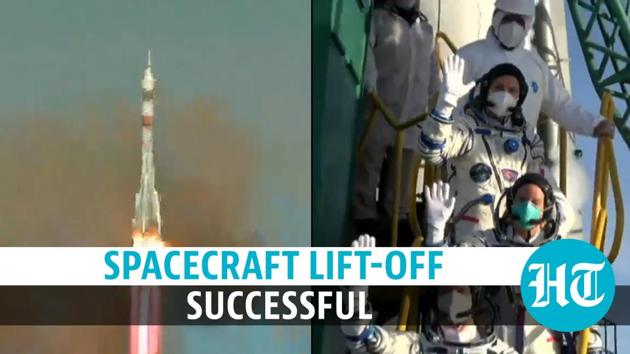 UPDATE OCT 14, 2020 at 1:26 p.m. IST
About the video
A spacecraft carrying three astronauts had a successful takeoff on October 14, 2020. The Soyuz spacecraft carried Kate Rubins from the US agency NASA, as well as Sergey Ryzhikov and Sergey Kud-Sverchkov from the US agency Roscosmos to the International Space Station. The launch took place at 11:15 am IST from the Baikonur Cosmodrome in Kazakhstan. The mission precedes the 20th anniversary of continued human presence in space. NASA has released video of the spacecraft's external cameras showing the stage 3 shutdown and engine separation. Watch the full video to learn more.




[

RELATED VIDEOS

]




Watch: Samsung scion jailed on corruption charges in South Korea corruption scandal

POSTED ON JAN 18, 2021 10:01 p.m. IST
Watch: Kremlin critic Navalny arrested on arrival in Moscow l Who said what

PUBLISHED JAN 18, 2021 at 4:31 p.m. IST
Biden swearing in: Security tightened in US states amid small protests

PUBLISHED JAN 18, 2021 12:22 IST
Nepal: demonstration against Prime Minister Oli in Kathmandu; Visit of the Minister of Foreign Affairs to India

POSTED ON JAN 14, 2021 at 7:24 p.m. IST
After impeachment, Donald Trump condemns the riot on Capitol Hill; urges " calm "

POSTED JAN 14, 2021 3:52 PM IST
'Strong India would counterbalance China': declassified US document

PUBLISHED JAN 14, 2021 at 3:32 p.m. IST
Trump indicted for instigating riots on Capitol Hill: what will happen next?

PUBLISHED JAN 14, 2021 2:22 p.m. IST
Airplane crash in Indonesia: search for survivors and black boxes l Latest updates

UPDATE JAN 11, 2021 at 3:21 p.m. IST
'Worst president ever': Arnold Schwarzenegger compares the Capitol crowd to the Nazis

PUBLISHED JAN 11, 2021 12:58 PM IST
Watch: an Indonesian plane suspected of having crashed; research teams check the sea

PUBLISHED JAN 9, 2021 11:31 IST
'Good thing': Joe Biden on Donald Trump skipping inauguration ceremony

PUBLISHED JAN 9, 2021 09:22 IST
Facebook and Instagram ban Donald Trump 'indefinitely' after US Capitol violation

UPDATE JAN 08, 2021, 5:35 am IST
After the chaos of the U.S. Capitol, Congress certifies victory for Joe Biden and Kamala Harris

UPDATE JAN 07, 2021 5:26 PM IST
Watch: Two snakes engage in fierce fight to prove dominance, video goes viral

PUBLISHED JAN 6, 2021 7:38 PM IST
Boris Johnson cancels Republic Day visit to India over Covid-19 situation in UK

POSTED JAN 5, 2021 at 9:53 p.m. IST