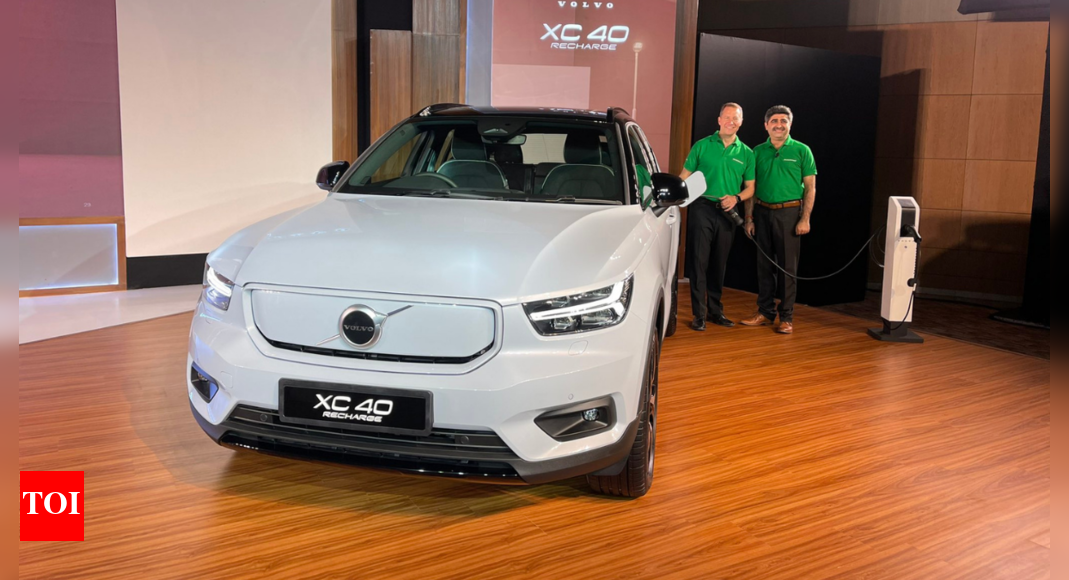 NEW DELHI: Swedish automakers Volvo Cars unveiled its electric SUV, the XC40 Recharge, in India on Tuesday.
Reservations will begin in June and deliveries will begin in October of this year. The XC40 Recharge is the second high-end electric SUV on the market and will cost around Rs 60 lakh (old showroom, Delhi) when it is launched.
The XC40 Recharge has a declared driving cycle of 418 kilometers according to European test cycles. The electric SUV goes 0-100 km / h in 4.9 seconds and has permanent all-wheel drive.
The XC40 Recharge receives two motors on the axles and has a combined output of 408 horsepower and 660 Nm. The 78 kWh battery takes between 120 minutes and 80% of its capacity on a 50 kW rapid charger system.
The electric SUV has dimensions of 4,425 mm X 1,873 mm X 1,652 mm and a wheelbase and curb weight of 2,702 mm and 2,188 kg respectively. The Volvo has a ground clearance of 176 mm.
The petrol counterpart XC40 T4 R-Design, currently on sale in India, is priced at Rs 39.90 lakh (ex-showroom, Delhi).
Placing the battery in the floor of the car also has the benefit of lowering the car's center of gravity, for better rollover protection.
In terms of active safety systems, the battery powered XC40 also introduces new technology. It is the first Volvo model equipped with a new platform of ADAS (Advanced Driver Assistance Systems) sensors with software developed by Zenuity, the joint venture owned by Volvo Cars and Veoneer.
Volvo Cars will also launch the C40 Recharge in India, in addition to the updated S90 and XC60 in 2021.
The Swedish brand is committed to electrifying its entire portfolio, emptying all IC motors by 2030.