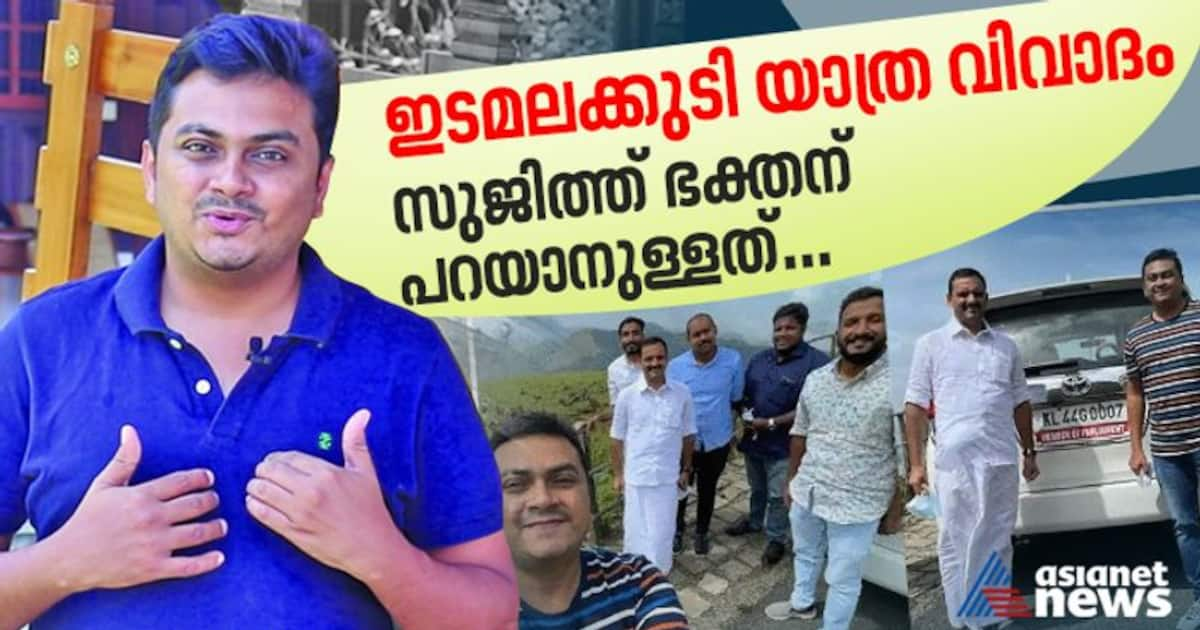 Thiruvananthapuram, First Published Jun 30, 2021, 4:17 PM IST
That's itThe trip of Idukki MP Dean Kuriakose and vlogger Sujith Bhaktan to the Divasi tribal panchayat of Idamalakkudi has been highly controversial. The latest controversy is that the MP could have gone to Idamalakkudi in the self-quarantine but did not inform the forest department about Vlogger Sujith coming with him. Police have launched an investigation into the incident after the CPI and CPM parties came to the scene with a complaint. At the same time, the forest department said that Sujith, a vlogger, did not have a permit in the forest and would be investigated. Asianet News Online sought the response of blogger Sujith Bhaktan on the issue. Sujith Bhaktan says the current controversy is politically motivated.
Idamalakkudi is the only school in Kerala where more than 150 students are studying and functioning even during this Kovid period. I went there on my own and as an MP to get help. I went to call the MP who is the people's representative of that country. I understand that the MP has the right to travel in the constituency as a representative of the people. He can decide who should go with him. A very small group of people, including MP Dean Kuriakose and I, arrived there. He reached there by car for a while and then in a vehicle boarded by the forest department. So I don't understand how the forest department can say no, says Sujith.
After visiting Idamalakkudi, if you watch the video posted on YouTube, you will understand that he went there to attend a function and deliver aid. Clearly, from there we never walked around in that panchayat. Then there was the fact that Kovid violated protocol, and the trip was exactly after the Kovid test. Help was brought there in June when the school reopened, and there was also a ceremony to honor the two teachers who left the school as it is today. It is enough to go to such events later.
The allegations now being made are purely politically motivated. He is also a part of this because he went with the MP. There are still videos on YouTube of vloggers doing such charitable activities there before I left, staying there one night and hanging out there. It did not go unnoticed. He has many problems. I saw the locals telling the MP. But no video was taken of it. Even the local panchayat authorities were present at the function I attended and there was no political difference to do a good deed. If it's good, I will go tomorrow even if Veena calls George or Surendran calls – says Sujith.
Now there are reports that various departments are taking action. But no investigation has been launched into him. Sujith Bhaktan told Asianet News Online that he would take any action against him for doing such a good deed.
Read More: MP visits Idamalakkudi with Vlogar in violation of Kovid norms; Police have launched an investigation
Read More: 'Vlogger did not have permission to enter Idamalakkudi'; Forest Department investigates controversial trip
In this time of the second outbreak of the Kovid epidemic, Asianet News urges everyone to wear masks, sanitize, maintain social distance and be vaccinated. Together we can defeat the epidemic. #BreakTheChain #ANCares #IndiaFightsCorona
Last Updated Jun 30, 2021, 4:57 PM IST