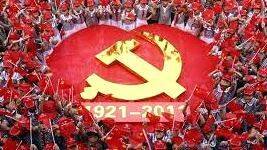 Beijing: The Chinese Communist Party, the unquestioned ruling party in China, is 100 years old. The People's Republic of China was founded by the Communist Party of China (CCP), the only ruling party in the country. The Chinese Communist Party was formed in China in 1921 with the help of the Soviet Union, the Far Eastern Bureau of the Communist Party and the Far Eastern Secretariat of Communist International.
Chen Daxiu and Li Dawao are the founding leaders of the party. The people hoped in the party to break free from the oppressive rule that prevailed at that time. The People's Republic of China was founded on October 1, 1949, after the Chinese Civil War. The Chinese Communist Party controls all major constitutional institutions in the country, including the Armed Forces, the People's Liberation Army, and the judiciary.
Today, July 1, marks the 100th anniversary of the founding of the Communist Party of China. Day for this too
Celebrations have already started in the country before us.
Tens of thousands of artists lined up at the Communist Party's 100th anniversary celebrations at Bird Nest Stadium in China. At the same time, the Chinese Communist Party, which once fought against slavery and dictatorship, is now being criticized for being dictatorial in the country. Critics point to China's serious human rights abuses as evidence. In any case, it is undeniable that China, under the wing of the Chinese Communist Party, has today become an economic power that even the superpower, the United States, fears.
Party structure
The National Congress, convened every fifth year, is the highest organizing body of the CCP. In the absence of National Congress sessions, the Central Committee is the highest body in the country. All major responsibilities rest with the Politburo and the Standing Committee. General Secretary Xi Jinping, who was elected to the 18th Central Committee on November 15, 2012, is now the ruling party and the country's head of state.