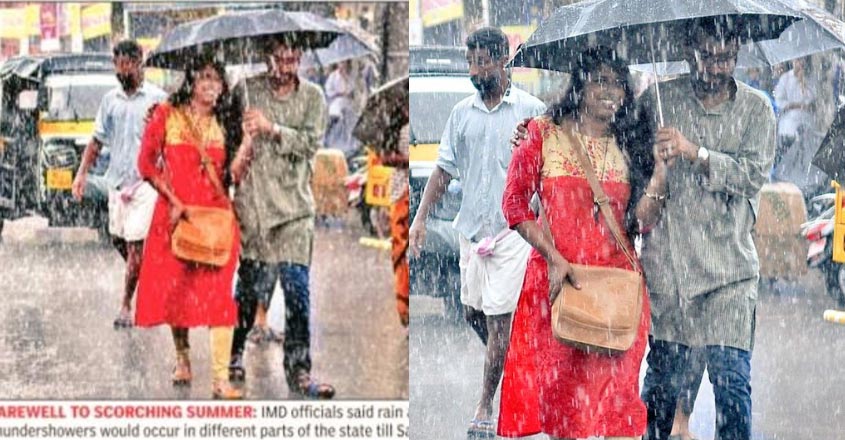 Beautiful memories of love will always be our favorite. Chandni Chandran, an IAS officer, shares one such memory. Chandni shared a picture of herself walking under an umbrella in the rain with her friend Arun Sudarshan on social media when the results of the 2015 civil service exam came out. Chandni shared the picture with the note that anyone who has walked hand in hand with the person they love will understand the meaning of this movie.
Chandni tells the interesting story behind the film: 'May 10, 2016. The results of the Civil Service Examination have come out. I could not win. I went out with Mr. Arun Sudarshan to relieve the stress, "Chandni said.
In 2017, Chandni won the IAS. Chandni Chandran is currently the Sub-Divisional Magistrate in Kanchanpur, Tripura. Chandni said in the note that this was the photo given when the news of the UPSC results announcement came in the national media. The film was released by Times India along with the IAS results. 'The picture was of the two of them walking under one umbrella. We were not married then. When the picture came, Arun called the newspaper office and complained. I would be happy if there was someone to walk under an umbrella with such kindness in an emergency. I can walk to any destination, "says Chandni.
At that time, the newspaper office was called for fear of problems if the film caught the attention of the family. Chandni says she decided to post the photo on Twitter because she was curious to see it recently. Later, her husband Arun contacted the photographer to get the real photo of the film. Chandni said he was very happy to send the photo. The film went viral on social media after Chandni shared an interesting story behind the photo. Many came up with comments. Many commented that it was a beautiful love story.