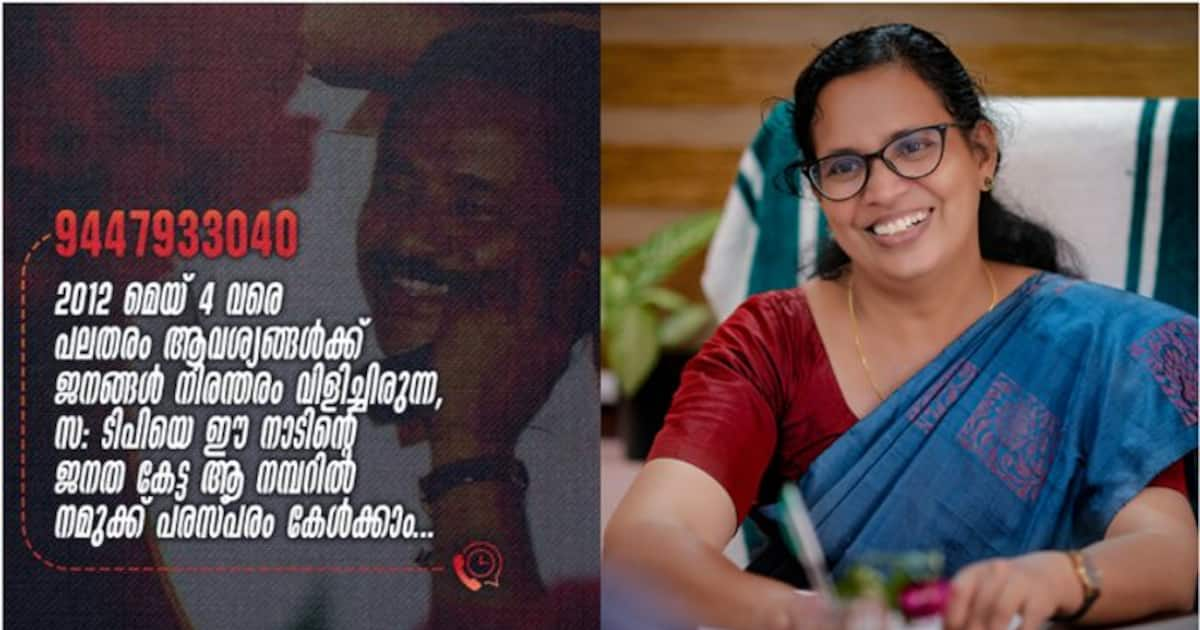 Vadakara, First Published Jun 30, 2021, 10:25 AM IST
Vadakara: The mobile number used by slain RMP leader TP Chandrasekharan is now the official number of Vadakara MLA. The official number of TP's wife and Vadakara MLA KK Rema is +919447933040 which was previously used by TP. In addition to the Vadakara MLA's office number +914962512020, the old number was set up in TP's memory.
" +919447933040 This is the official number of the MLA‌. At least some who hear this may remember this number. From where TP fell, we are moving forward. Until May 4, 2012, people were constantly calling for various public needs, and we can hear each other on that number that the TP people heard, "KK Rema wrote on Facebook.
The full version of the Facebook post
Dear brothers and sisters,
It has been almost two months since you elected me as your legislator with great love.
There is a lot of enthusiastic support and solidarity from within and outside the constituency. And the people of Vadakara are looking forward to this victory. With all your support and cooperation, I am optimistic that those expectations will be met. He also shares the joy of being able to intervene in some of the popular issues in the constituency.
It is already known that the MLA's office is working to coordinate the day – to – day activities of the constituency more effectively. Vadakara's favorite MP The office was inaugurated by K. Muralidharan.
Everyone, regardless of religion / community / political affiliation, is always welcome in the office. You can get in touch with the official numbers to contact the office for various purposes.
+914962512020 This is the MLA office number in Vadakara. +919447933040 This is the official number of the MLA‌.
At least some who hear this may remember this number. Comrade TP This is the number used by Chandrasekharan till the last day. This number is active again. After his student life, TP was active in organizing struggles at the national level. As a life partner of, you know the background of being active in the public sphere again, having been involved in local politics and women's organizations! From where S TP fell, we are moving forward. Until May 4, 2012, people were constantly calling for various public purposes. Let's hear each other on that number that the TP people heard ..
KK Rema
Last Updated Jun 30, 2021, 10:25 AM IST