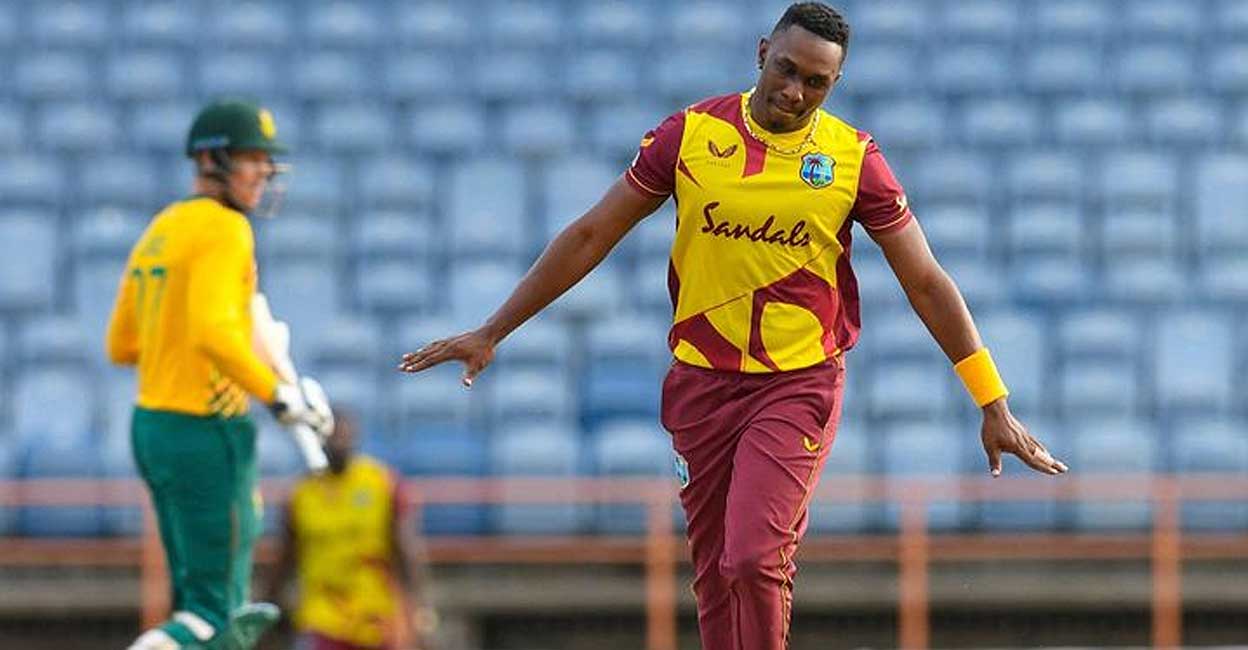 West Indies captain Cayenne Pollard finished the fourth Twenty20 with a shattering performance in the fourth Twenty20 against Granada South Africa. The West Indies won the toss and elected to bat, with Pollard scoring a brilliant half-century and Dwayne Bravo a stunning South African bowler. The Windies beat South Africa by 21 runs to tie the five-match series 2–2. With this, the fifth Twenty20 got the atmosphere of a climax. Pollard is the man of the match.
West Indies captain Pollard, who lost the toss and opted to bat at the National Cricket Stadium in Granada, scored 167 for six in the allotted 20 overs. Wicketkeeper – batsman Quinton Decock shone again with a half – century, but South Africa were bowled out for 146 for nine in the allotted 20 overs. Dwayne Bravo took four wickets for 19 runs in four overs.
West Indies lost the toss and opted to bat, with opener Lendl Simmons giving a brilliant start. Simmons, who scored 4, 4, 0, 6, 0, 6 in the first over by Aiden Markram, also holds the record for most runs scored in the first over of a Twenty20 innings when batted first. The Windies, on the other hand, were tired of losing wickets. Fellow openers Evin Lewis (seven off five balls), Chris Gayle (five off eight balls) and Shimron Hetmeyer (five off 12 balls) did not shine. Simmons returned with 47 off 34 balls with four fours and six sixes to take the Windies to 70 for four.
But the resistance of Nicholas Puran (16 off 15 balls with two fours) in the middle order and Captain Pollard's smashing put the Windies in the lead. Pollard was unbeaten on 51 off 25 balls with two fours and five sixes. Fabian Allen, who was unbeaten on 19 off 13 balls with two fours and a six, also contributed to the team. Pollard and Alan put on 66 runs in the last four overs for the Windies, who beat the South African spinners in the middle overs. For South Africa, Taboras Shamsi conceded just 13 runs in four overs and George Linde conceded just 16 runs in four overs, taking two wickets each.
In reply, opener Quinton Decock smashed for South Africa but was left without anyone to support him. Decock hit 60 off 43 balls with six fours and two sixes. Aiden Markram (20 off 20 balls), David Miller (12 off 9 balls) and Kagiso Rabada (16 off 12 balls) also failed to save South Africa. Bravo took four wickets for 19 runs in four overs. Andre Russell took two wickets for 30 runs in four overs. Meanwhile, Fidel Edwards and Chris Gayle, who opened the bowling for the West Indies, scored a rare feat. Prior to this, the duo had opened bowling in a Twenty20 match in 2003. That was 18 years ago! It was long before the first international Twenty20 match in history took place.
English Summary: West Indies vs South Africa, 4th T20I – Live Cricket Score