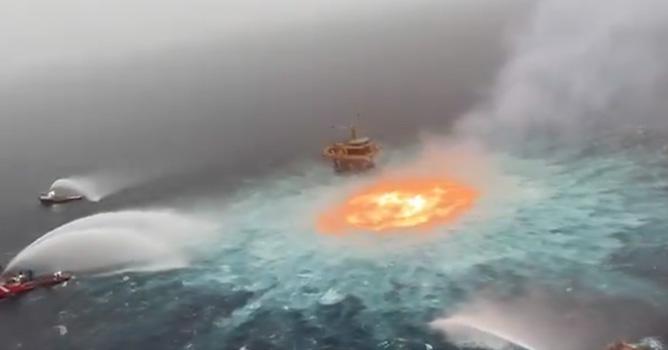 The fire spread for hours in the middle of the sea; The world was shocked to see the video
MEXICO CITY: The stabbing spree in the middle of the ocean in Mexico's Yucatan province was much discussed yesterday. Reports have now emerged that the fire was put out after hours of hard work.
The fire was caused by a gas leak from a pipeline through the ocean floor. The video of the fire burning above the water was widely circulated on social media.
The fire was put out after a five-hour effort. The fire was put out by the workers of Pemex. The fire was reportedly contained with nitrogen.
The fire broke out in a pipeline connecting the Mexican government-owned oil company Pemex, a petroleum company in the Malobsap province.
Company officials said no one was injured in the blaze and that the cause of the fire would be investigated in detail.
It is hard to believe that this video is real. But it is. The ocean is on fire in the Gulf of Mexico after a pipeline ruptured. What you can see are ships attempting to put it out. pic.twitter.com/VRcBmLGPsg

– Liam Young (@liamyoung) July 2, 2021
Ku Malub Sapile, Pemex's largest crude oil storage. About 40 per cent of the 1.7 million barrels produced per day comes from this Malobsap.
According to some PEMEX documents, the systems used to store crude oil at the Ku Malob sap were damaged due to heavy rains and winds.
Click here to financially support Dolnews' freelance journalism
Dolnews can also be followed through Telegram and WhatsApp

Content Highlight: Fire Rages In The Middle Of Ocean Near Mexico Video