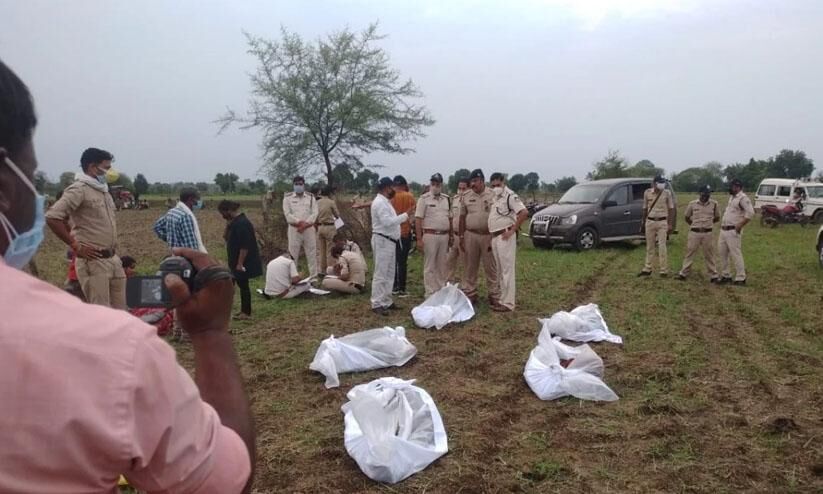 Diwas (Madhya Pradesh): The bodies of five members of a family who went missing a month and a half ago have been found buried at a depth of eight feet. All the bodies were found naked and in separate graves. The deceased have been identified as Mamta (45), children Rupali (21), Divya (14) and their two half-sisters.
They went missing on the 13th of last month. Surendra Rajput, the owner of the building where the couple was staying, was arrested following a complaint lodged by her relatives. He was arrested along with five others who were involved in the murder and burying of bodies. Police said seven more members of the group were to be arrested. The search for them has intensified.
According to the police, the connection between Surendra and the slain Rupali led to the massacre. Surendra later decided to marry another woman. In retaliation, Rupali posted a photo and phone number of Surendra's fianc on social media. Outraged, Surendra decided to kill Rupali. He was killed on the pretext that other family members were involved in the conspiracy against him. After the murder, clothes were removed from the bodies and cremated. The bodies were buried at a depth of eight feet and salt and urea were sprinkled on them for quick decay.
As the search for the missing progresses, Surendra's post on Rupali's Facebook account to divert the police led to the case. The post said that he had a marriage of his choice and was far away and that his mother, sister and cousins ​​were with him. The police found Rupali's phone in use during the day and found it in Surendra's possession. When the phone was checked, it was found that Su Rendra and Rupali were constantly calling. When Su Rendra's phone was checked, it was found that he had been in constant contact with those who had assisted in the murder and burial of the missing persons. Surendra later pleaded guilty during interrogation.