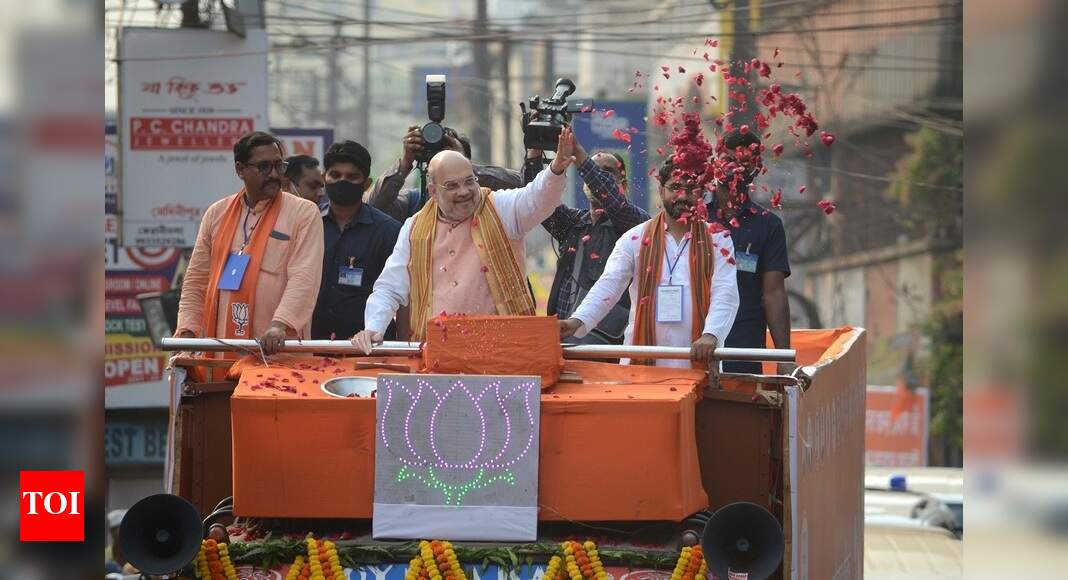 UDALGUDDI (ASSAM): Expressing his confidence BJP would convincingly win the polls in Bengal and return to power in Assam, Home Secretary Amit Shah cited congressional alliances with Furfura Sharif Peerzada (ISF) in Bengal, Badruddin Ajmal in Assam and the Kerala Muslim League to assert that voters could clearly see who was "communal and divisive." He said: "I don't understand the kind of secularism Congress Talk about."
Countering 'foreign' jibe from Trinamool to BJP, said Shah TMC leaders are expected to see the scale of turnout at PM Modi rallies. "The people of Bengal are yearning for regime change and will adopt the PM's vision for state development," he said, adding that the BJP would gain more than 200 seats (out of 294). "The NDA will again form the government of Tamil Nadu," he said.
"The most important factor is the development agenda that the Modi government is working on. Modi's vision will strike a chord with the people of Bengal (and voters for that matter), "Shah told TOI during his election campaign in Assam.
In his polls, the interior minister said the BJP government had brought peace to Assam, with curfews and much reduced infiltration. He also said the BJP's manifesto for Bengal was truly inclusive and in both states dealt with issues of identity and culture.