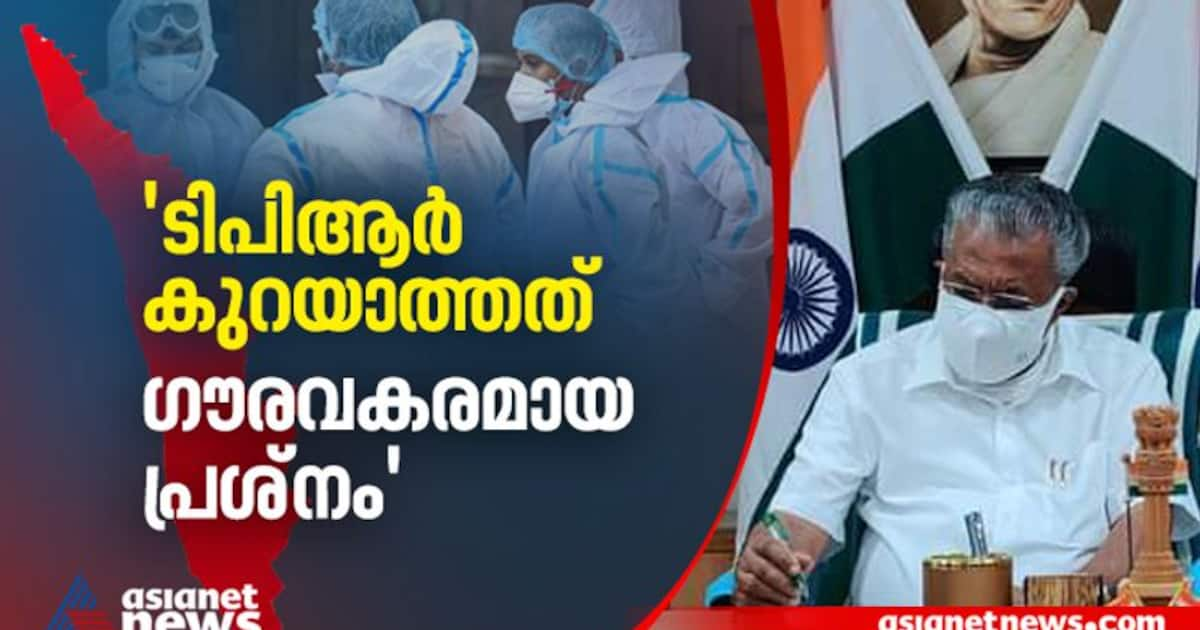 Thiruvananthapuram: Kovid has confirmed 13,550 people in the state today. It was confirmed today that 104 deaths were due to Kovid. 99174 people are in treatment. The average TPR is above 10%. The CM also said that there was no expected progress in reducing TPR.
Outbreaks were reported in Malappuram 1708, Kollam 1513, Thrissur 1483, Ernakulam 1372, Palakkad 1330, Thiruvananthapuram 1255, Kozhikode 1197, Alappuzha 772, Kannur 746, Kottayam 579, Kasaragod 570, Pathanamthitta 473, Idukki 284 and Wayanad 268. During the last 24 hours, 1,23,225 samples were tested. The test positivity rate is 11. Routine sample, Sentinel sample, CBNAT, Trunat, POCT. PCR, RT A total of 2,29,32,942 samples have been tested so far, including LAMP and antigen testing. The total number of Kovid deaths in the state was 13,093.
Today, 47 of those diagnosed with the disease are from outside the state. 12,660 people were infected through contact. Contact sources for 753 are not clear. The worst affected areas are Malappuram 1668, Kollam 1505, Thrissur 1479, Ernakulam 1346, Palakkad 834, Thiruvananthapuram 1128, Kozhikode 1179, Alappuzha 742, Kannur 672, Kottayam 555, Kasaragod 558, Pathanamthitta 455, Idukki 278 and Wayanad 261.
About 90 health workers were affected. Health workers from Kannur 30, Palakkad 12, Kasaragod 9, Thiruvananthapuram, Kollam 7 each, Pathanamthitta 6, Kottayam, Kozhikode 4 each, Ernakulam, Wayanad 3 each, Idukki, Thrissur 2 each and Alappuzha 1 were affected. A total of 10,283 people who had been diagnosed and treated were cured. Thiruvananthapuram 1341, Kollam 732, Pathanamthitta 481, Alappuzha 705, Kottayam 447, Idukki 310, Ernakulam 1062, Thrissur 1162, Palakkad 1005, Malappuram 923, Kozhikode 913, Wayanad 193, Kannur 594 and Kasaragod 415 were cured. With this, 99,174 people have been diagnosed with the disease and are still undergoing treatment. 27,97,779 people have so far been freed from Kovid.
There are currently 3,88,083 people under surveillance in various districts of the state. Of these, 3,62,902 are under home / institutional quarantine and 25,181 are under hospital surveillance. 1979 people were newly admitted to the hospital. TPR Based local self-government areas continue to be the same as last day. TPR 313 below 8, TPR. 545 between 8 and 16, TPR. 152 between 16 and 24, TPR. There are 24 local bodies above 24 and above.
CM's words ….
Currently 99174 people are in treatment. The average TPR is above 10. TPR slowly declined from 29.75 per cent to 10 per cent. But it does not see the expected progress in declining. Lockdown cannot be performed all the time. That's why restrictions are reduced. But the fact that the TPR is below 10 is a serious problem. Statistics from the last one week indicate that the number of patients will not decrease significantly. However, TPR is expected to decline slowly. In the first category, the speed of RAW transmission was well controlled. Therefore, there are thousands of people in Kerala who are not affected by the disease. According to a serum survey conducted by ICMR, only 11% of people have a first-degree infection. The national average was 21 percent then. The second was the delta type Gam, which was extremely powerful. Although the disease was contagious in the first place, controls were introduced so that our health systems could keep the disease at bay.
The Kovid pandemic is like a big wave wreaking havoc. We have adopted the method of blocking the force of the wave and slowing it down. We have seen what happened where it was not possible. We saw people lined up with dead bodies in cemeteries. It is up to us to see if that situation does not exist here. The fate of the Kovid genus in Kerala is not the same as that of a type of gum that suddenly disappears. Slow down and take some time to finish. That is why it is important not to worry about that.
Today's review meeting decided to make a small change in the division of areas according to the extent of the disease. In the last seven days, the average TPR of less than 6 per cent of the A category in 165 areas is in the local bodies. There are 473 local bodies in the B category between TPR 6 and 12. Section C covers 316 areas between TPR 12 and 18. At 80, the TPR is above 18 percent, which is the D category. According to this division, the control will be implemented in the state for a week from tomorrow. There is no need to relax the existing restrictions.
In this time of the second outbreak of the Kovid epidemic, Asianet News urges everyone to wear masks, sanitize, maintain social distance and be vaccinated. Together we can defeat the epidemic. #BreakTheChain #ANCares #IndiaFightsCorona
Last Updated Jun 29, 2021, 6:20 PM IST