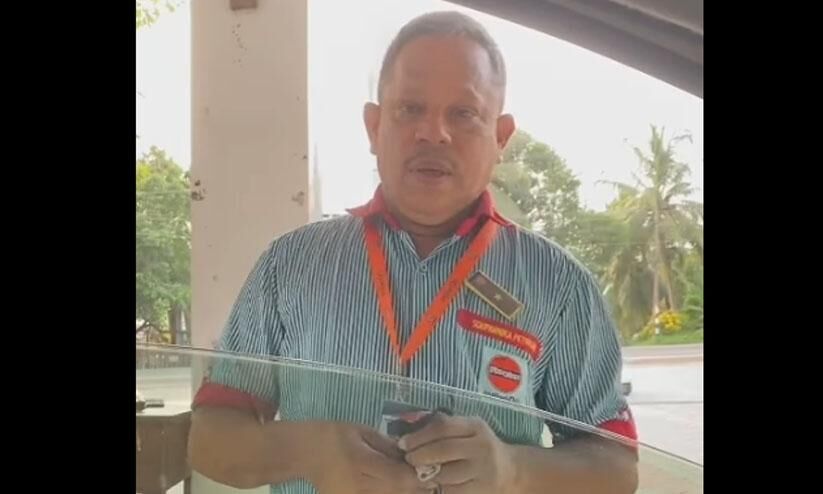 People who heard the man in uniform at the petrol pump first thought that it was Harish Kanaran. Same style. Looks like Harish did a makeover. There is a 'push' in the dialogue reminiscent of 'Jallian Kanaran'. He is being touted as a movie star. But when I saw the video, it was true. People have acted in movies. That too in hit movies like Kalapani, Godfather and Ekalavyan.
Actress Surabhi Lakshmi has appeared in a video posted on Facebook introducing the employee of the pump who regularly goes for diesel. Kozhikode native Muzhikkal Nambyampunathil Ashraf. As Surabhi's video went viral, everyone really recognized Ashrafika as a different pump man.
Friends say that Ashrafika is a real movie fanatic. That life is like a movie story. His passion for cinema led him to work as a senior junior artist and production assistant in over twenty films. The ship featuring Mohanlal in 'Kalapani' has appeared in the scene. Later, he gave up his passion for cinema and went to the Gulf due to early life.
After working in the Gulf for 12 years, he has not given up his passion for acting. Ashraf, who is currently working at a petrol pump near the NGO headquarters, says his mind is full of movies. Ashrafika also does not hide her grief over the loss of the Kozhikode cinema, which used to focus on the Maharani Hotel. He says that the directors of the films he has acted in in the past now make only one film a year, so it is difficult to get a chance. He is survived by his wife Mumtaz, children Anshida Fatima and Anshad and son-in-law TP. Kabir also supports his passion for acting.
Hope to get opportunities due to Surabhi's video
Ashrafika is now hoping that someone will give her a chance in the movie after watching a video posted about her by actress Surabhi. The video begins with Surabhi asking an employee at the pump who regularly runs out of diesel how much diesel is. Surabhi jokingly asks, "Isn't this a constant beating and will it pay the old price?" With this, Ashrafika changed her face mask, introduced herself as a junior artiste and talked about her roles in films like Kalapani, Ekalavyan and Godfather.
Ashrafika tells the story of how they all came together to make the film 'Varam' and how it broke. The video also shows Ashrafika saying that if there is any small role, she should be informed and if she needs a house for rent or shooting. 'Fifteen thousand house near the ladies' hostel. Surabhi shared his video titled 'Click here for more information'. The video is also getting interesting comments.
'Are you trying to disguise Harish Kanaran and stick to him', 'The good of Kozhikode. We are expecting him in a movie soon ',' Give him a good chance Chechi ',' His style of speaking and acting is good to look at, his voice and appearance are like Harish Kanaran '.