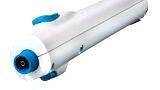 The world's first DNA vaccine
New Delhi: Indian pharma company Sydus Cadila has applied to the Drug Controller General for permission to develop a psycho-de wax vaccine. If approved, it will be the fifth vaccine to be used in the country, along with Kovichield, Kovacin, Sputnik V and Modena. This will be the second Indian vaccine to be approved after Bharat Biotech's Kovacs.
The vaccine is injected using an applicator that does not have a conventional needle. The device, which was developed in conjunction with PharmaJet, will also come with the vaccine.
Lots of features
ആദ്യത്തെThe first three doses of the vaccine in India
A dose of 3 mg.
Three doses at intervals of 28 days
ആദ്യത്തെThe world's first d. N. A vaccine
66.6% resistant to severe disease
കമ്പനിCompany safe for children (12-18)
The vaccine can be modified according to the genetic makeup of the virus
DNA vaccine
Psychov-D is a vaccine that uses DNA, the genetic component of the virus. It uses the plasmid DNA molecule that contains the virus' gene. Because the vaccine has the genetic makeup of the virus, it can mimic the protein of the virus and cause the body cells to produce antibodies.
The vaccine has been tested on 28,000 people in the country.
Of these, 1000 are 12-18 year olds
The third clinical trial was in the second wave. Hopefully the Delta variant will resist.
Can be stored at – 2 – 8 C.
Undamaged for up to three months at 25 C.
Indian weather is possible.
Three doses can be given in two doses.
If approved, 12 crore doses will be produced in a year
Kovovacin is not approved for use in children
The Drug Controller General has rejected the Serum Institute's request to test the Kovovax children (2-11, 12-17 years old) of the US company Novovax.
Sputnik Light is not allowed a third trial
The panel of experts rejected the request of the Reddy's Lab to conduct the third phase of the Russian Sputnik Lite Orthodox Wax in India. The reason is the lack of scientific information. In Russia, immunity was 79.4%. Sputnik V of the same company has been launched in India.