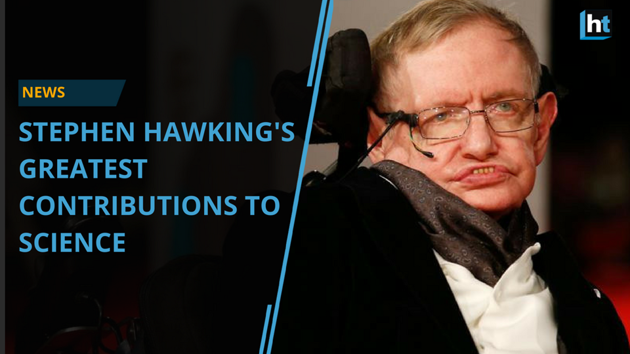 UPDATE MARCH 19, 2018 1:06 PM IST
About the video
Famous physicist Stephen Hawking died on March 14 at the age of 76 at his home in Cambridge. Hawking was one of the longest survivors of Lou Gehrig's disease who confined him to a wheelchair at the age of 21. But that didn't stop him as he continued to make huge contributions to science like the discovery that black holes emit heat and radiation that would be called Hawking radiation. His 1988 book "A Brief History of Time" entered the Guinness World Record for spending 237 weeks on the Sunday Times bestseller list.




[

RELATED VIDEOS

]




Watch: Samsung scion jailed on corruption charges in South Korea corruption scandal

POSTED ON JAN 18, 2021 10:01 p.m. IST
Watch: Kremlin critic Navalny arrested on arrival in Moscow l Who said what

PUBLISHED JAN 18, 2021 at 4:31 p.m. IST
Biden swearing in: Security tightened in US states amid small protests

PUBLISHED JAN 18, 2021 12:22 IST
See why Prime Minister Modi's signs were raised at rally in Sindh, Pakistan

POSTED JAN 18, 2021 11:57 am IST
Nepal: demonstration against Prime Minister Oli in Kathmandu; Visit of the Minister of Foreign Affairs to India

POSTED ON JAN 14, 2021 at 7:24 p.m. IST
After impeachment, Donald Trump condemns the riot on Capitol Hill; urges " calm "

POSTED JAN 14, 2021 3:52 PM IST
'Strong India would counterbalance China': declassified US document

PUBLISHED JAN 14, 2021 at 3:32 p.m. IST
Trump indicted for instigating riots on Capitol Hill: what will happen next?

PUBLISHED JAN 14, 2021 2:22 p.m. IST
Airplane crash in Indonesia: search for survivors and black boxes l Latest updates

UPDATE JAN 11, 2021 at 3:21 p.m. IST
'Worst president ever': Arnold Schwarzenegger compares the Capitol crowd to the Nazis

PUBLISHED JAN 11, 2021 12:58 PM IST
Watch: an Indonesian plane suspected of having crashed; research teams check the sea

PUBLISHED JAN 9, 2021 11:31 IST
'Good thing': Joe Biden on Donald Trump skipping inauguration ceremony

PUBLISHED JAN 9, 2021 09:22 IST
Facebook and Instagram ban Donald Trump 'indefinitely' after US Capitol violation

UPDATE JAN 08, 2021, 5:35 am IST
After the chaos of the U.S. Capitol, Congress certifies victory for Joe Biden and Kamala Harris

UPDATE JAN 07, 2021 5:26 PM IST
Watch: Two snakes engage in fierce fight to prove dominance, video goes viral

PUBLISHED JAN 6, 2021 7:38 PM IST