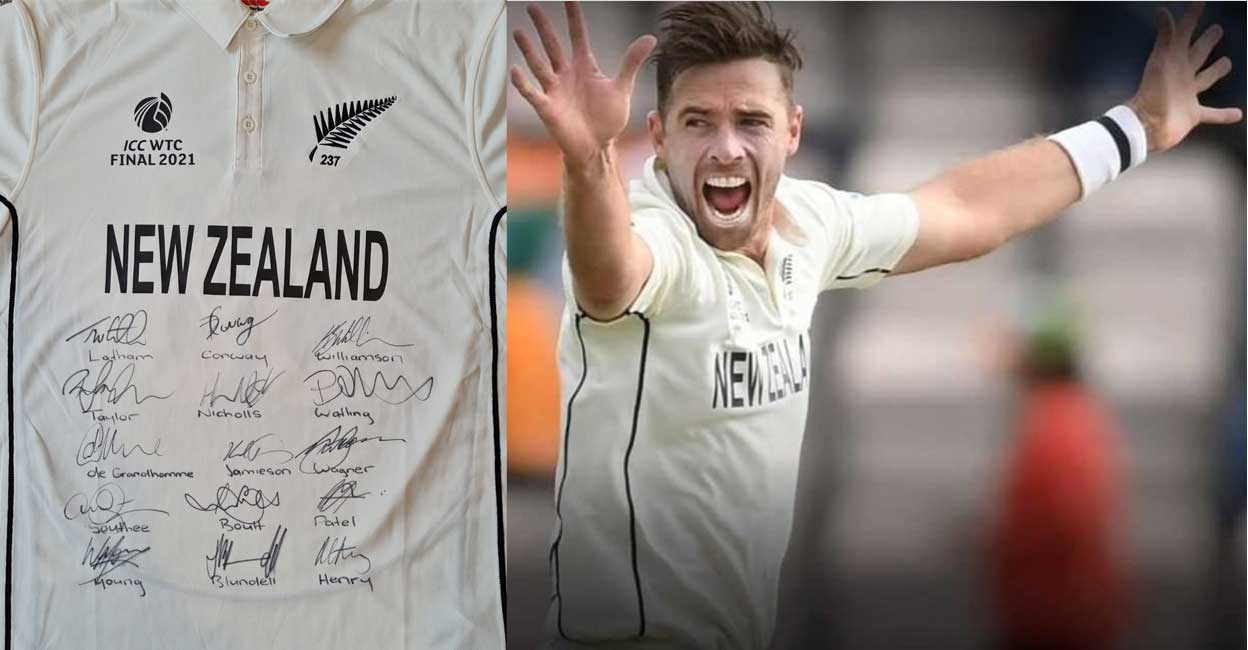 Christchurch എട്ടു The sports world applauds and supports New Zealand cricketer Tim Southee for extending a hand of mercy to eight-year-old Holly Betty, who has been diagnosed with cancer. Southee is an eight-year-old girl who has been diagnosed with a serious form of cancer called neuroblastoma. The jersey, which was worn when India beat India in the final of the inaugural World Test Championship, has been put up for auction for Holi's treatment. Holly and her father John are currently in Spain for specialist treatment.
Southee's jerseys were signed by all 15 players on the team for the World Test Championship final. The jersey auction is progressing online. The auction is open until 1.45pm on July 8th. Currently, the auction price has risen to US $ 43,200 (over Rs 32 lakh).
The New Zealand Cricket Board said on Twitter that Southee's jersey had been put up for auction for such a purpose. Southee took five wickets in two innings in the final against India. He took four wickets for 48 runs in the second innings alone. In the second innings, Southee started the innings by dismissing Indian openers Rohit Sharma and Shubhman Gill. New Zealand won the match by eight wickets.
'This auction is for the jersey I wore against India in the World Test Championship final. It was signed by all 15 members of the New Zealand team. All proceeds from the auction will be used to pay for Betty's treatment.
'My family and I first heard of Holly Betty from a cricket group a few years ago. Betty's family's patience, strength, and positive attitude impressed me that day. Attempts are being made to support Betty in any way she can, given her understanding that Betty needs more specialist treatment, "Southee said.
'My hope is that this will provide a good amount of money to help Betty, who is battling the disease, pay for her treatment. As a parent, I am with Betty and her family in their struggle, "Southee said.
'Holly and her struggle remind us that success and failure on the cricket field are nothing. We invite everyone to participate in the auction, both large and small. '
English Summary: Tim Southee puts his WTC final shirt on auction for cancer treatment of 8-year-old kid Hollie