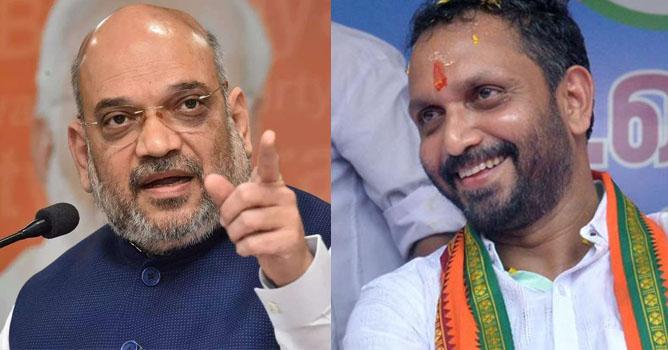 Kerala News
'Someone like Shashi Tharoor should lead the BJP in Kerala'; BJP ousts new state president
Kozhikode: After the defeat in the state elections, the stage is being set for a change of leadership in the BJP. The BJP KA quotes leaders for Mathrubhumi.com This was reported by Johnny.
Unprecedented support in state BJP Though Surendran was given during the election, the BJP could not win.
Therefore, the BJP said that Surendran could not stay away from the BJP's defeat. It is reported that the central leadership is evaluating.
'The central leadership has decided in principle that there should be a change in the state leadership. The BJP leadership, which has close ties with the central leadership, said that the decision would be taken at that moment if a person acceptable to the presidency is found at all levels. Quoting the leader, K.A. Johnny reports to Mathrubhumi.
The unnamed leader said that the All India leadership was looking for someone with personal influence and that the All India leadership was looking for someone like Congress leader Shashi Tharoor to lead the BJP in Kerala.
Various names are being heard for the post of state president but no one has been confirmed. RSS R. who was the editor of the organizer of the face publication. Although Balashankar's name has been elevated to the presidency, both factions of the BJP have expressed opposition.
At the same time, in the wake of the election defeat and organizational problems in Kerala, the BJP Earlier, a special committee appointed by the Center had reported that the state leadership should be disbanded.
CV Anandabose, e. The proposal was made by a committee unofficially appointed by Sreedharan and Jacob Thomas as members of the party. The Central Committee was appointed after Nemom lost the seat and suffered a heavy defeat in the elections.
Some members of the panel have suggested that the leadership, including the chairman, be replaced by a new one. The proposal calls for a reshuffle without changing the leadership altogether.
Union Minister V Muraleedharan and others are responsible for the election defeat. V Muraleedharan has been criticized for becoming the leader of the group.
Kodakara money laundering case: Manjeswaram candidate K to withdraw candidature Sundara was paid and C.K. The BJP has made various allegations, including that Janu was paid. State leadership and K. The change of leadership is being discussed even in the situation that has arisen against Surendran.
Click here to help finance Dolnews' freelance journalism
Dolnews can also be followed through Telegram and WhatsApp
'Someone like Shashi Tharoor should lead the BJP in Kerala'; BJP search for new state president in kerala