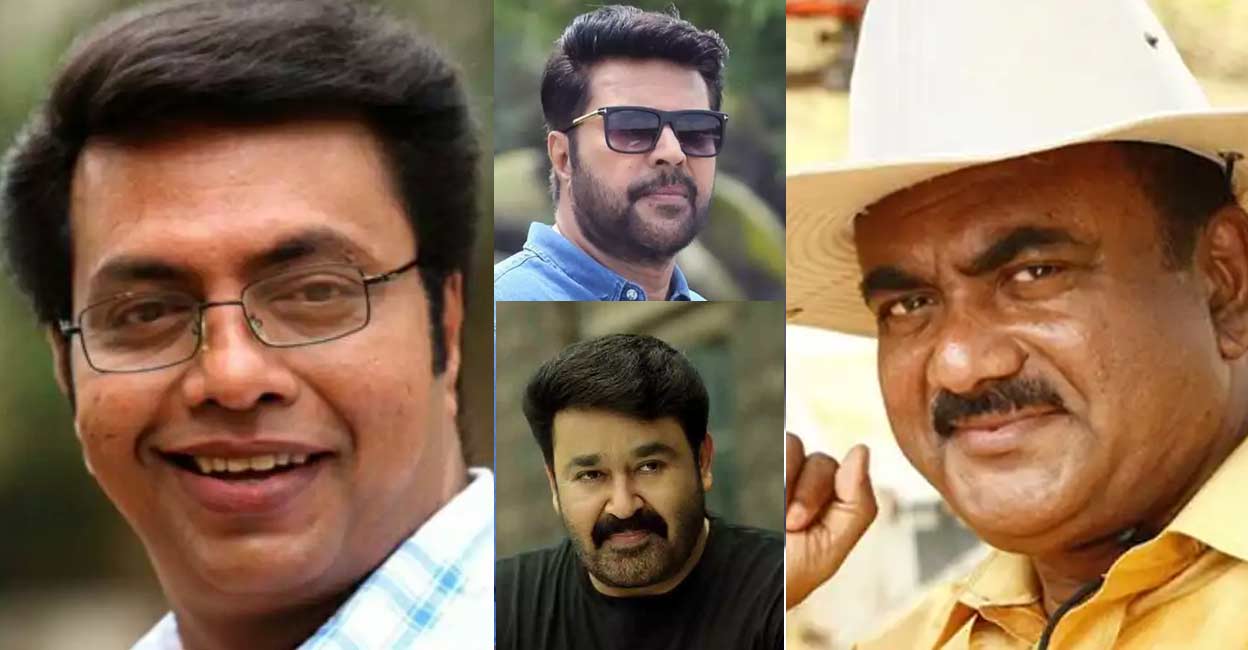 In the early days, Mammootty was voiced by Srinivasan and others. But there is one person who has voiced for Mammootty after becoming a superstar – Shammi Thilakan. With Mammootty's permission, Shammi Thilakan provided the voice for only a few dialogues in Suryamanasam. Shammi Thilakan voiced for Kamal Haasan in a story unknown even to Kamal Haasan or the director. It has recently come to the notice of many that mimicry artists today imitate the voice of famous director and actor Alleppey Ashraf in the name of actor Jayan. Recently, there was a controversy over the appearance of another person in the new media club house imitating actor Prithviraj. Here is the story of some of the sound curiosities in the movie …
'It was not Jayaram who gave voice to Prem Nazeer'
'It was not Jayaram who gave voice to Prem Nazeer in this film' – a newspaper advertisement ahead of the release of Mohanlal's film 'Kadathanadan Ambadi' for 1990 Vishu. The ad featured a picture of Shammi Thilakan along with a picture of Nazir. Shammi Thilakan is not one of the voices in the title cards of the film. The very beginning of the film is recorded as 'Nandi Shammi Thilakan'. The film, produced by Sajan Varghese of Saj Productions, was completed by Navodaya Appachan on a court order due to legal issues. Shammi Thilakan shares his experience of giving voice to the film:
'Nazir Sir's last film or even the last one released was Kadathanadan Ambati. Prem Nazeer was shot years before he died but the release was delayed due to some issues. It was completed by Navodaya Appachan and released by the court. By then, the script of the film was lost. We wrote the dialogues by looking at the stars' mouths. We prepared the pilot dubbing track of the entire cast. The dubbing was completed after listening to this pilot track by Mohanlal and others.
Navodaya Appachan tried many mimicry stars to do the voice of Nazir Sir. Although they imitate Nazir's voice, Appachan, who has a long association with Nazir, knew that it was important to bring his expressions to the voice. Nasir's voice is deeply ingrained in the minds of the people. Nasir Sar is an actor who narrates dialogue only in a special way. That modulation was what was needed. Finally, Appachan Sir told me that Shammi himself should give the voice. I did not imitate Nazir's voice, I gave my voice to Nazir. I gave voice to the expressions of his character. If you watch that movie, you will understand it – 'said Shammi Thilakan.
Shammi Thilakan said that Navodaya Appachan had advertised in newspapers that Jayaram, who was notable for his voice imitation of Nazir at the time, might have given him the voice after his death. Navodaya Appachan later said in an interview that he owes a lot to Shammi. Shammi Thilakan says, "If I want to describe what I have given voice to Nazir, the decoration in Malayalam is the best – I was worried about the color of the other's Dharma Yoga, whether it was me or not" – says Shammi Thilakan. Shammi Thilakan has voiced about 20 characters in the film. In one scene, Prem Nazeer and his co-stars have the voice of Shammi Tilikan.
Shammi's voice for Mammootty's Putturmees too!
Viji Thampi's 'Suryamanasam' is a film starring actor Mammootty in a different role, Putturumis. The voice of that character was also very different. Mammootty himself provided the voice for the character. However, in a few scenes, Putturmis has got the voice of Shammi Thilakan. 'I was called to give voice to Raghuvaran, who played the villainous character in Suryamanasam. When I reached the studio, while giving voice to Raghuvaran, the dialogue in one scene of Mammootty was simply told through the mic. That scene was earlier dubbed by Mammootty. Viji Thampi, who was sitting on the studio's console, suddenly called out to Michael, "Shammi, is Mammootty here?"
I said, 'No'.
Viji Thampi said, "I heard Mammootty's voice."
Viji Thampi was silent when I told him that I had said that dialogue. Two or three days after I finished dubbing and came home, Viji Thampi's phone rang.
'Shammi, the dubbing has to be done in part'. I was shocked. I looked at the dubbing script, finished all my part and came back with it marked. I confirmed this. Then Viji Thampi said, 'Not Raghuvaran's dialogue, only one or two scenes of Mammootty are left. It should come and be dubbed '.
I was shocked again. The adventure of dubbing Mammootty's scene is not right.
"" What? I asked.
'He urgently needs to go to the shoot. There is still some work to be done, "said Viji Thampi.
'That would not be right. If I do that, I will complain – 'I said.
"No, Shammi, Mammootty has said that," said Viji Thampi. But I did not believe it. I said I would do it if Mammootty told me to.
'Then I can give the phone to Mammootty -' said Viji Thampi and handed the phone to Mammootty.
'Oh, I'm. Do that ', Mammootty gave permission in one word. I dubbed one or two conversations and some of the effects of the conflict for Mammootty – 'said Shammi Thilakan.
It is a secret that the director did not know that Kamal was given the voice
The dubbing of the movie 'Chanakyan' has been completed. Kamal Haasan has completed the dubbing. But it was only later that I realized that the dialogue in a scene was inaccurate due to a technical problem. Tension ran high for the technical engineer who handled the dubbing. He and I agreed to change that part without anyone knowing. So in only one scene did I give voice to Kamal Haasan. It is doubtful whether even the director knew about this – 'Shammi Thilakan recalled at the time.
In that movie, actor Thilakan has provided some dialogues for actor Jayaram. Imitating Thilakan's voice, Thilakan himself provided the voice for the parts where Jayaram's character speaks. But for Jayaram, Shammi Thilakan's voice has come only for one sentence in a dialogue. In the movie 'Radhamadhavam', for some reason, only one sentence called 'Chitte' was not dubbed. This sentence was later filled in by Shammi Thilakan.
Dubbed by Shammi
Another person has voiced for Shammi Thilakan who has given voice to so many stars – Someone else has voiced the character of Shammi Thilakan in the Tamil version of the movie Kasturiman. Shammi says it didn't fit his character. Protesting against this, Shammi Thilakan took an oath that he would no longer give voice to Tamil actors. However, he was forced to dub again. Finally, Shammi Thilakan has lent his voice to Prakash Raj in 'Odian'.
Thilakanu's son's voice
Shammi Thilakan, who has given voice to many Malayalam villainous characters including Napoleon in Devasuram and Vishnuvardhan in Kauravas, has only given voice to his own father once. It was for the serial 'Peythozhiyate' starring actor Thilakan.
'My father was in hospital in critical condition while acting in that serial. While Dad was in the ICU, the episodes of that week became unplayable on TV.
That's how director Haridas asked me to dub for my father. I told him that he could not speak for his father while he was in the hospital. However, seeing their awkwardness, he finally decided to dub the part for a week. The latter part was dubbed by Shobi '- Shammi Thilakan has a lot to say.
Jayan Ashraf's voice in Mimicry
Alleppey Ashraf, who excelled in university mimicry competitions, has been dubbed into the film. When actor Jayan died in a helicopter crash in 1980, many films were in crisis. The films he starred in and completed could not have been released without his famous voice. The first film to be released after his death was 'Human Beast'. In 1980, Baby was called in to voice Jayan in the film Manushya Mrigam. The film was produced by Evershine Productions.
'They tried dubbing with a lot of mimicry stars but nothing worked. That's how I came to know about myself. He reached Madras and got a phone call asking him to give his voice. Everyone liked my voice. Jayan had to voice his voice in films like Sreekumaran Thampi's 'Attack' and Venu's 'Unknown Secrets'. It was finally called to give voice to the 'colic'. Before that it was very easy as I had given voice to three movies.
At the climax, the dialogue 'Amme, Ammee Makananamme' is said first. The producers put a lot of demands on the voice of the film. I accepted all of that. But the demand for dubbing was Rs 10,000. At that time, even famous dubbing artists could earn up to Rs 1,000. But the manufacturer accepted my demand. That completes the dubbing, "said Alleppey Ashraf.
Ashraf's 'roar' for Rajinikanth
'The voice for the Rajinikanth starrer' Garjanam 'was first voiced by someone else. However, Rajinikanth did not like the sound of the film after the dubbing was completed. He insisted that the voice should be changed. They called me. If you want to add sound again, you have to redo all the work from the beginning. So they demanded that Rajinikanth should listen. Then I demanded a reward of Rs 10,000. They promised that Rajinikanth would be rewarded if he liked. So I voiced a scene in the presence of Rajinikanth. He liked it. Ashraf laughs as he completes the dubbing of the film in full.
Anthony's voice
Ashraf has also lent his voice to Bharat Award winning actor PJ Antony. Antony died when the black and white film Choola, directed by Sasikumar, was completed. Ashraf, the winner of the university mimicry competition, was called in to give voice to the film. Ashraf recalls that he completed the dubbing in two days by listening to Antony's voice recorded on location.
Dubbing for Maina
Alleppey Ashraf has the experience of giving voice not only to actors but also to creatures. In the movie 'Sfatikam', there is a mine called 'Tiger Tiger'. Ashraf provided the voice for that mine. The movie is over, with a huge hit. That is how the film was remade in Tamil. There is also the sound of Maine. One day a Tamil film activist called me and said, 'Sir, you have to give Maina's voice, sir.'
I suggested using the same soundtrack used on the glass. 'But, sir, in Malayalam it is called the Myna tiger tiger. There is no tiger in Tamil, sir, it is a bear. ' I laughed. But since they sent me a flight ticket to Madras, I went and dubbed it 'Maina Kardi' and returned to Maina! " Ashraf said with a laugh.
English Summary: Interesting Stories of Dubbing from Malayalam Cinema