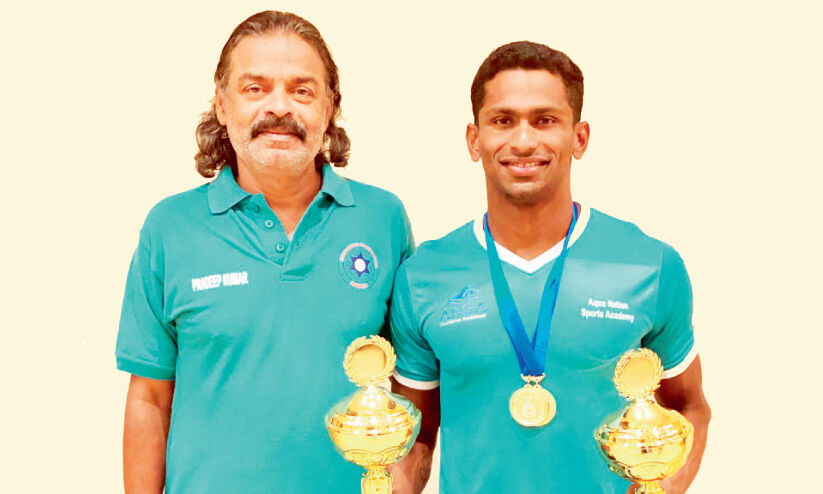 Dubai: Swimming star Saja says his first goal is to reach the semifinals of the Tokyo Olympics N Prakash. After qualifying for the Olympics, he left Rome, Italy for Dubai. Mr. Sajan was talking to 'Gulf Media'. He is the first Indian swimmer to qualify directly for the Olympics. Sajjan, the leader of Zhakara.
'Competing in the Olympics is the biggest achievement. My best time is 1.56.38. 25th place when compared to other athletes participating in the Olympics . Self-confidence in the semi-finals after improving the performance a little more മുണ്ട്. When we reach the first 16, we can be sure of the semi … 'Sajan has self-confidence. Settlement in Rome was the last chance to go to the Olympics. Championship in India. If he had not reached his goal, he would have lost the Olympics. നു.
Arrived in Rome after the championship in Serbia. He has not been able to reach his destination in Serbia. The time in Serbia was 1.56.96. 1.56.48 for Tokyo Olympics qualifiers. He went swimming in the pool without any tension. All the self-confidence trainers for this are Pradeepsar and Amma Shan Riu. In. God's plan and circumstances are all in favor of what is expected. Finished the finish line at a speed of (1.56.38).
The hope is that Sajan will be able to put out a good performance. Rishila Kan Pradeep told Mar. Compared to other Olympic stars, Sajan reached the semifinals. Pradeep also said that he is hopeful. Sajan's training in Dubai for ten months. The decision was made to return to Tokyo after July 17. Sajan is the first Indian swimmer to compete in two Olympics. Competed in the wild card entry at the last Rio Olympics He was not able to cross the Heatsi.