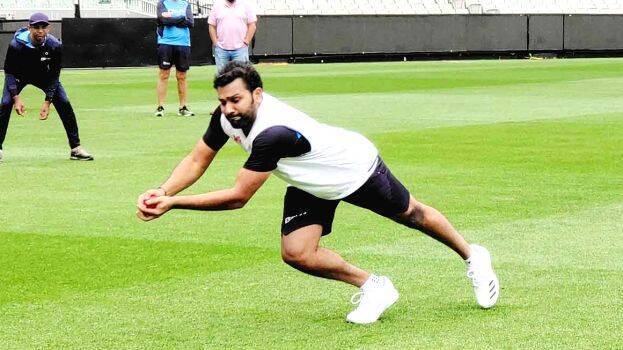 Melbourne: Batsman Rohit Sharma, who joined the Indian team after completing his quarantine in Australia, started training yesterday. Rohit, who was training in the nets yesterday under batting coach Vikram Rathore, also looked a hand in the fielding.
Rohit has been ruled out of the ODI and Twenty20 series on the Australian tour due to injury during the IPL. Rohit, who was injured during the preliminary round of the IPL, returned to the team before the play-offs and led the Mumbai Indians to the title. However, after the IPL, the BCCI sent him to the National Cricket Academy in Bengaluru to recover his fitness. Sent to Australia after passing fitness test.
Maybe play in Sydney
Rohit Sharma will be able to play in the third Test starting in Sydney starting on the 7th of this month.
Rohit has two options ahead: One: Mayank Agarwal will be replaced by opener. Two: Play in the middle instead of Hanuma Vihari.
India tested Rohit as the opener in last year's Test series against South Africa, which was a success. But under the circumstances in Australia, it is not certain whether Rohit will be the opener. Rohit is unfamiliar with Australian soil. Coach Ravi Shastri says that he talked about playing with Rohit. Shastri said after the Test victory in Melbourne that he would consider the player's position before making a decision.
Shubhman Gill, who made his Test debut in Melbourne, has shown patience and maturity. Mayank Agarwal's performance so far in the series has been disappointing. Only once did the two cross the line.
Chance for Rahul
According to the Indian team, Rohit is not keen on becoming the opener as he has not received any training matches. When Rohit comes, there is a possibility that Mayank and Vihari will be dropped and KL Rahul will also be given a chance. In that case, Rohit will join the middle order and Rahul Gill in the opening.
With Australia winning in Adelaide and India in Melbourne, the next two Tests will decide the series winners. The return of Rohit will give strength to India. But it is doubtful how Rohit will play when it comes down to the opening. The third Test will be played in Sydney from January 7 to 11. The fourth match will be played in Brisbane from January 15 to 19.