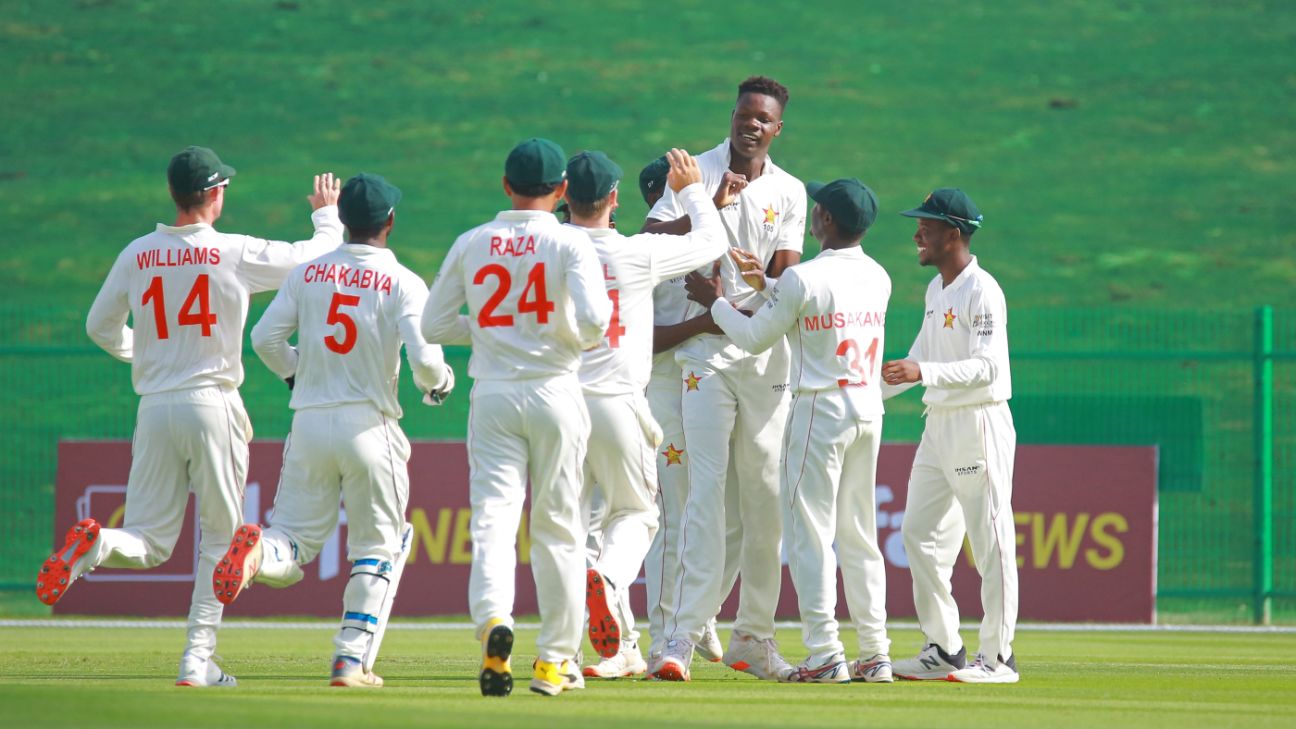 Report
Blessing Muzarabani hits with very first Test ball – Zimbabwe's first bowler to achieve the feat
Lunch Afghanistan 85 for 5 (Zazai 19 *, Afghan 9 *) vs Zimbabwe
Zimbabwe's quicks took advantage of favorable conditions for sailors to place in Afghanistan's top-five, after Asghar Afghan chose to strike on green-tinged terrain. Although Sean Williams also wanted to post a total first in Abu Dhabi, he would have been pleasantly surprised to see what his bowlers had to work with – movement in the air and out of the seam and extra bounce for the very tall Blessing Muzarabani – which made Zimbabwe's decision to choose three pacemen seems strategically reasonable.
Afghanistan, on the other hand, started off with just one quick, Yamin Ahmadzai, and three spinners and hope they didn't misinterpret their adopted home surface.
Muzarabani, playing his first test since the day-night game against South Africa in 2017, became the first Zimbabwe bowler to take a wicket with the first ball of a test when he played debutant Abdul Malik with a ball that moved into him and took the inside edge as he failed to defend himself. Malik was the 33rd instance of a batsman sent off on the first ball of a test.
His wicket has brought Afghanistan's only test centurion, Rahmat Shah, to date, and he has reached 300 races in this format with training right on the ground. But it only lasted five more balls before Muzarabani got one to pull away slightly, take a nice outside lead and carry to Regis Chakabva. Two bullets later, Muzarabani appealed for lbw against another newcomer, Munir Ahmad, but Aleem Dar ruled that was not the case.
Victor Nyauchi shared the new ball with Muzarabani and also had an early call from LBW. His came against Ibrahim Zadran, who pushed forward to defend and was hit on the front pad but the ball seemed to go over the stumps. Zadran was Afghanistan's best drummer of the morning and was particularly impressive on the square drive.
What he needed was a partner and Munir, although uncomfortable at first, was the only one sticking around for a bit. Their third wicket passed to 29 before Munir hit a wide delivery from Nyauchi which was caught well by Sikandar Raza on the first slide, and Ibrahim went the same way three times later, when he attempted a practice. off Nyachi towards a ball which moved away. and was caught in the ravine. Nyauchi still had some success when he beat Hashmatullah Shahidi with an inswinging yorker who squeezed through the bat-pad space.
By that point, Muzarabani had cast an eight-out spell, the last of which cost 12 points, and Zimbabwe had to use their change bowlers. Donald Tiripano didn't cause the same problems for the batsmen, but kept it tidy so Zimbabwe had the upper hand at lunch. What they didn't have, however, was an acceptable excess rate. Only 23 overs were played in the first session.
Firdose Moonda is ESPNcricinfo's correspondent in South Africa