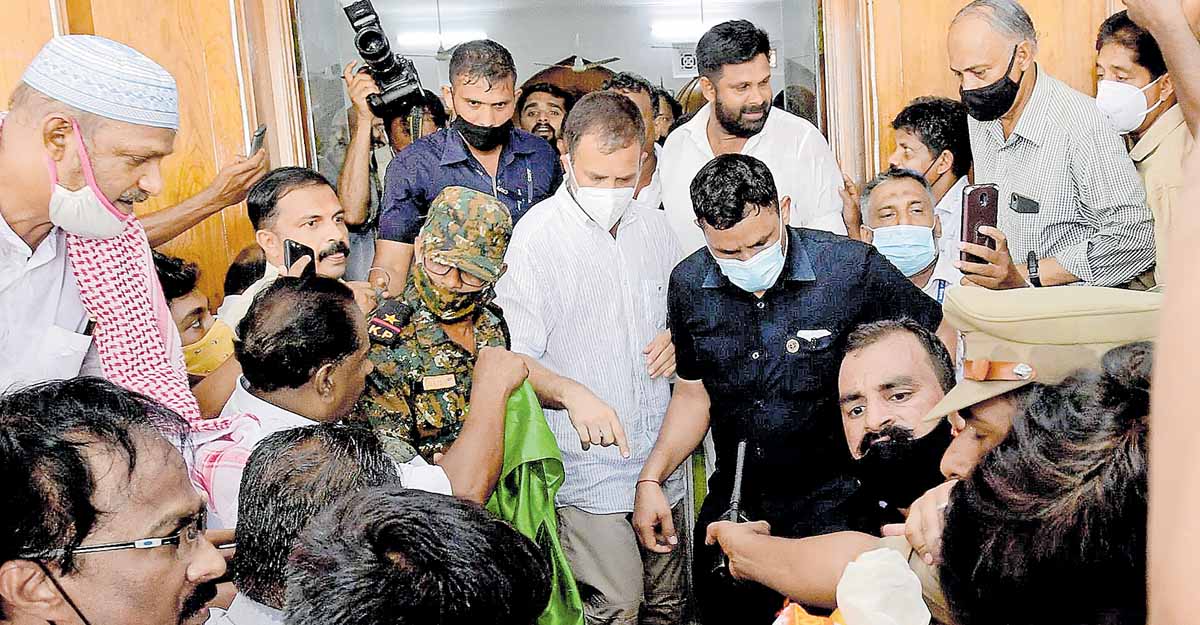 Rahul Gandhi stood up in a vehicle parked on the road between Kochambalam and Town Nainar Church in Erumeli ∙ Pettakavala and said: " I love this country. The symbol of India is the buffalo with a temple and a mosque on either side of a road.
Unfortunately, Prime Minister Narendra Modi is trying to divide this India where everyone lives together. "
Erumeli is a model for the world where people of different faiths live in unity. Those who go to the temple here pay homage to those who go to the mosque. Those who go to the mosque also pay homage to those who visit the temple. Different religions live together. They follow different beliefs to find solutions to their problems. But Narendra Modi says only himself and his faith are right. Kerala Chief Minister Pinarayi Vijayan also says that only Karl Marx and capital are right. Both do not accept the beliefs of others. But we say the people are right, "said Rahul.
Rahul, who reached Erumeli at 2.30 pm yesterday, was received by a large crowd on both sides of the road from Valiyambalam to Pettakavala.
After visiting the Erumeli Dharmasastha Temple (Valiyambalam), he participated in a road show with Tommy Kallani, a candidate from Poonjar. Stool at Pettah Dharmasastha Temple (Kochambalam). Later we reached the Town Nainar Mosque.
Rahul's car from 'left'
Pathanamthitta: Kerala Congress (M) district president N.M. Raju. The Congress leadership said that there was no politics in this and that the vehicle was given as a dealer of the vehicle. The vehicle was driven by Alankar Sawai, Rahul's personal assistant. Rahul preached in Konni and Ranni from the top of the car. When the vehicle was stopped at several places, people with flowers and shawls went straight inside the vehicle.