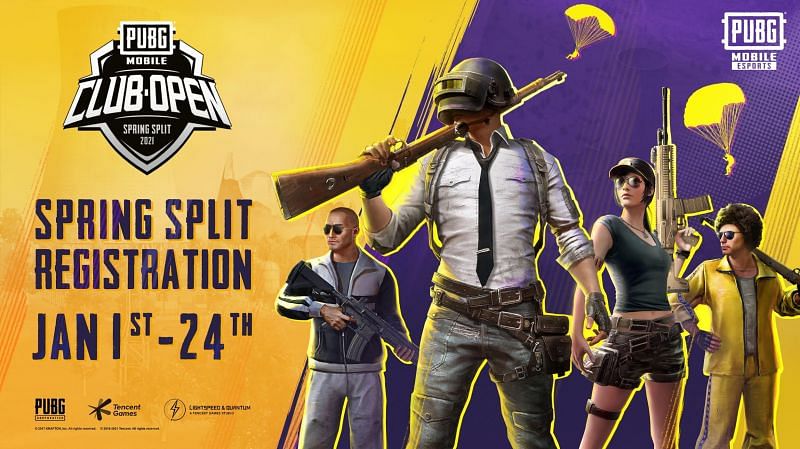 Starting January 1, aspiring mobile esports semi-pros from around the world are invited to register and participate in the new PUBG MOBILE Club Open 2021 (PMCO). It will be the biggest PUBG MOBILE ever semi-professional esports competition to date.
PMCO 2021 will now be available in 27 regions, with registrations open until January 24.
This is because of the huge success of PMCO in 2020, which has seen tens of thousands of teams sign up, and PUBG MOBILE commitment to continue to develop their e-sport ecosystem to support competitors of all levels
2020 has been a great year for PUBG MOBILE eSports. More than 120,000 teams around the world applied to compete. The teams displayed exceptional skills and looked for their chance to take it to the next level.
The expansion of the PMCO means more players will be able to continue improving their skills, have a competitive gaming feel, and usher in the highest levels of mobile esports competition of the year.
PUBG MOBILE esports also announced $ 14 million in prize money.
In 2021, PMCO will expand to more regions in Europe, Middle East, South Asia, LATAM, and South East Asia.
This is the first division for PMCO to include the Southeast Asian regions (Thailand, Vietnam, Indonesia, Malaysia and Singapore), where semi-professional teams were previously registered by participating in the national championships.
The full list of regions capable of registering for PMCO in 2021 is:
CIS, Europe WC, MENA WC, Africa, South Asia WC, LATAM WC, North America, Malaysia and Singapore, South East Asia WC, HMT, Wildcard, Turkey, Germany, United Kingdom, France, Arabia, Iraq , Egypt, United Arab Emirates, Pakistan, Indonesia, Thailand, Vietnam, Nepal, Bangladesh, Brazil, Mexico
UBG MOBILE players around the world are invited to register their teams for PMCO 2021 from January 1 to 24 here.
PMCOs are the gateway to the PUBG MOBILE Global Championship (PMGC) – PUBG MOBILE's most prestigious tournament. The final fight for the greatest honor and the greatest cash prize. The opportunities are open to everyone.
With a prize pool almost tripling from this year ($ 5,000,000 to $ 14,000,000) and a record audience figures in 2020, the sky for PUBG MOBILE esports and its players in 2021 exceed the limits.
The PUBG MOBILE esports ecosystem started in 2018 with grassroots events across the globe.
2020 saw the completion of the amateur to professional circuit with the introduction of the PUBG MOBILE World Championship (PMGC), the PUBG MOBILE Pro League (PMPL) and the major expansion of the PMCO.
In 2021, the PUBG MOBILE esports ecosystem will expand to more regions with more professional esports support and a bigger prize pool. The program now supports competitors of all levels, from amateur to semi-pro and pro. It is also spread across multiple regions, ensuring a clear path for talented players to progress.
Posted on Jan 01, 2021 12:26 AM IST