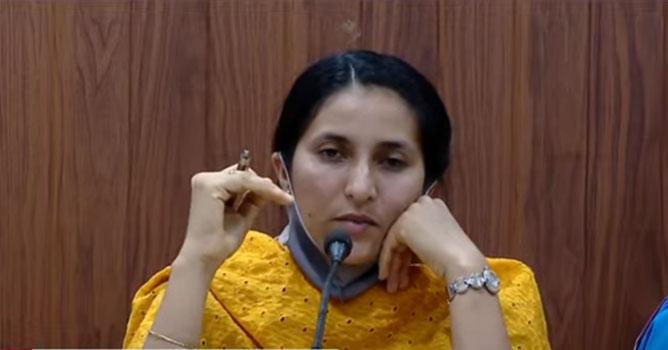 No woman complains of harassment in church disputes; Mayukha Johnny against the allegations
Thrissur: Athlete Mayukha Johnny has denied allegations made by former Zion spiritual activists that the torture complaint in Thrissur was false. Mayukha Johnny said that no woman would file a complaint of harassment in the name of church dispute.
Mayukha said that the press conference of her friends was proof that the accused was influential and that she did not know about the videos that were said to be evidence against her.
MC, who was the chairperson of the Women's Commission, represented the accused. Mayukha also said he was adamant that Josephine was involved. Mayukha said it was enough to check the phone calls to know the ministerial involvement in the case and that the allegation was not made for the Zion movement.
Mayukha said he would consider legal action if false evidence was fabricated against him.
Former Zion activists have called a press conference to denounce allegations of rape made by Mayukha Johnny.
Those who came out alleged that it was the practice of Zion members to trap those who left the group in fake cases and that Mayuka and the complainant were active members of the movement.
Johnson was a member of the Zion movement. After the death of the founder of the movement, Johnson and his family moved out of Zion. It is alleged that the harassment allegations were based on hostility.
Mayukha Johnny told a news conference yesterday that she had not received justice from the police in the case of her friend's rape. Mayukha said the accused was still mentally abusing the girl.
In connection with the incident, SP. Had complained to the florist. But there was a bad attitude from the police. MC, who was the chairperson of the Women's Commission. Mayukha also alleged that Josephine had interfered with the accused.
Mayukha said the accused raped her while no one was at home and threatened to take nude video of her.
Defendant Chunkath Johnson did not get justice even if he came forward with the case because he had financial backing and a political criminal background. Mayukha said Josephine had asked the police not to arrest the accused.
He had not lodged a complaint with the police when the incident took place in 2016. However, Mayukha said that after the girl's marriage, the accused started threatening her and she lodged a complaint with the police with the support of her husband.
Click here to financially support Dolnews' freelance journalism
Dolnews can also be followed through Telegram and WhatsApp
Content Highlight: Mayukha Jhoni declines the allegation against rape complaint