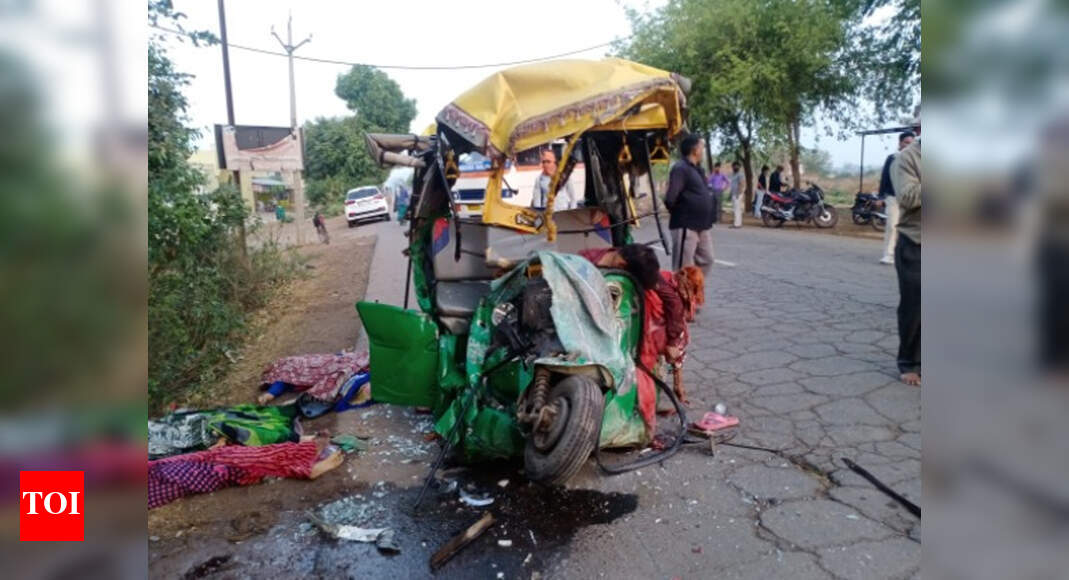 GWALIOR: Thirteen people, including twelve women, were killed after a head-on collision between a rickshaw and a bus in Gwalior early Tuesday. Four women belonged to the same family.
The women were returning after cooking food for children at an Anganwadi center in the Stone Park neighborhood – about 15 km from the district headquarters – when the accident happened at 5:30 a.m. Ten people, including the driver of the automobile, died on the spot. Three women died of their injuries in hospital.
Ten people including the driver of the automobile died on the spot while three women died of their injuries in hospital.
"They had left in two automatic rickshaws. A car suffered a hitch later, so they decided to come back in one car. It is very unfortunate. We do our best to help injured families, "said Gwalior collector Kaushlendra Vikram Singh. The car was registered in the name of Dharmendra Parihar. The bus driver escaped the scene after the incident.
Chief Minister Shivraj Singh announced compensation of Rs 4 lakhs to each family. "I am saddened by the untimely loss of precious lives in the fatal collision between a bus and a car in Gwalior. I pray to God to grant departed souls a place at His feet and their loved ones to endure this tragedy. Om Shanti! the chief minister tweeted. MP Jyotiraditya Scindia also expressed his pain at the accident.
Police have registered one case for further investigation. Investigators suspect that the bus or rickshaw driver fell asleep while driving.
Transport Minister Govind Singh Rajput ordered the suspension of the Road Transport Officer (RTO) with immediate effect while Transport Commissioner Mukesh Jain ordered an investigation into the accident. Energy Minister Pradhumn Singh Tomar visited the morgue and met with relatives of the deceased.
The deceased have been identified Kamla Rathore, Geeta Rathore, 37, resident of Shiva Kalaini, Anita Pal, 37, Usha Rathore, 43, resident Shiv Kalaini, Asha Rathore, 45, resident of Gadaipura, Usha Jatav, 37 resident of Jaderuakalan, Rajendra, 40, resident of Jaderuakalan, Mayadevi Prajapati, 65 of Pinto Park, Hatka Bai, 65, Dharmendra, 35, Munni Pal, Guddi 40, and Lakshmi, 27.
Family members of the deceased protested at the hospital to demand compensation of Rs 10 lakhs and a job for their relatives. They said that in one of the cases, a deceased woman left behind a four-year-old son. Her father died a few years ago. There is no one left to care for the child, they said, asking the government to organize his rehabilitation.