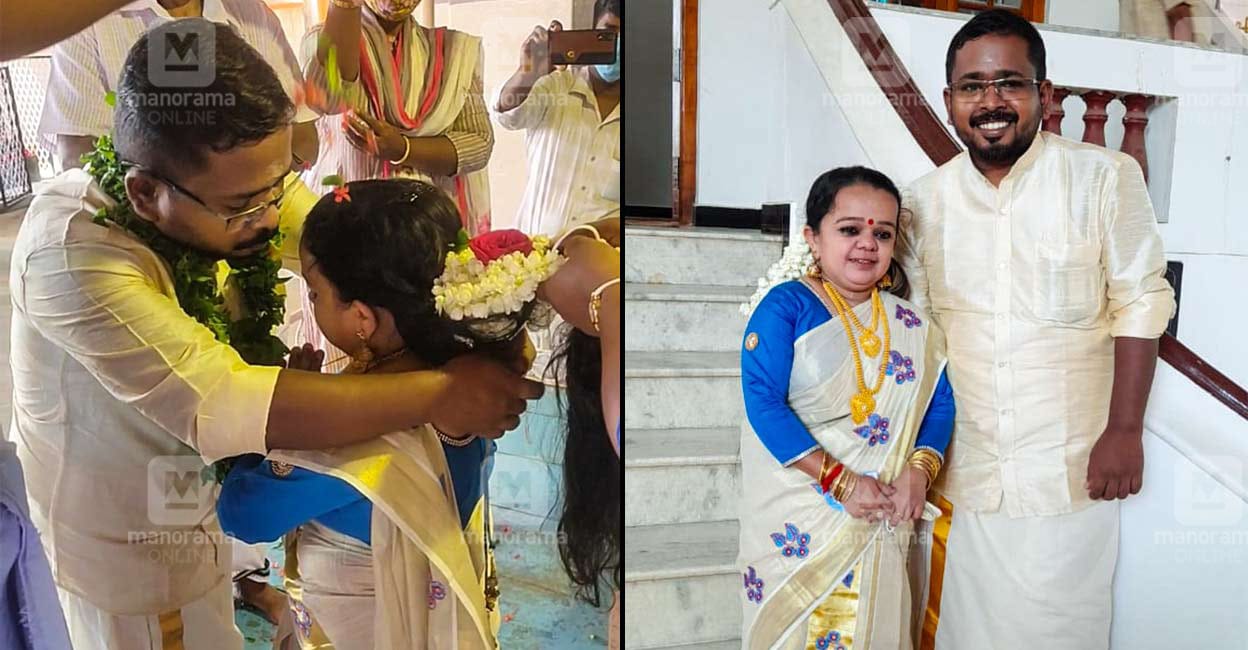 Manju is short in stature. So some things are hard to do. But that never discouraged her. He lost his mother at a young age. With that, she became the mother of her aunt. Became the head of a family that included father and brother. Graduated. Participated in the Paralympics. Starred in the movie. Many jobs were done. He overcame the limitations created by his short stature and moved on in life directly from the peak of his confidence.
Today she is beautiful. On July 1, Vinuraj Tali, a native of Kodunthirapulli Athalur, wrote to Manju, daughter of Raghavan of Puthenpurakkal, Nochipulli, Mundur, at the Yakkara Vishweswara temple in Palakkad. Vinuraj and Manju meet unexpectedly, become friends, then decide to part ways, and eventually become inseparable. There was a lot of opposition. The wait was five years. Yet they did not back down. Manju and Vinuraj share that love story with Manorama Online.
Manju: I met Vinu Chettan through a teacher at the institute where I studied typewriting. Vinu Chettan is a bit short in stature. So he told his friend the teacher to consider marriage if he had a short girl. That's how I give my number and we get to know and be friends. But my brother and family never thought I would be so short. After realizing this, the family decided that the marriage would not take place. Chetan came directly to inform me of this. That's how we see it for the first time. The family told me they were not interested and that we could end it here. A week later, Chettan's message came. I like you. I'm not looking at anyone else. It was as if you were the only one getting married.
Vinuraj: When I met Manju, I liked when I understood that personality. Isn't the goodness of the mind more important than the height of the body? Both households were opposed for a number of reasons. Manju's short stature was the problem in my house. I told Manju to wait. My sister's wedding was scheduled. I thought that when it was over, the opposition of the household would subside. But that did not happen.
Manju : Neither I nor my family ever thought my marriage would happen. One or two suggestions from short people like me came in between. But none of that was right. That is when Vinuchettan comes to life. But everyone saw me as a woman who could do nothing. Is it right to think that you can do nothing without seeing and understanding me even once? Chetan was able to understand what I was. He did not care about my height or financial status.
Vinuraj : Everyone must have already decided who they are. I have been assigned Manju. Manju is a normal person to me. Being an extraordinary person is due to his speech, demeanor, personality and the love I receive. Realizing that family opposition would not change, we decided to get married. So Manju became my life partner.
Manju : I have faced a lot of problems since I was young. He was always sick till the ninth class. More days in the hospital. At the age of ten, he continued to be hunted down in the form of his mother's death. My mother was relieved of my pain and the neglect I faced. That is what is lost. My aunt was five years old then. I had no idea what to do. But he was not tired. I became her mother. Will do all the housework. Then go to school.
Life was scarier than I thought. He suppressed his desire to dance and learn to sing. Another problem was the financial difficulties of the family along with physical limitations. In some cases, the net can not hold. I have even thought about suicide. But I was not ready to give up. That's how I got the strength to compete in the Paralympics, win medals and act in movies.
Vinuchettan is also with him now. His support is a great strength. There are national level competitions in shot put and badminton. You have to be prepared for that. Now learning dance. After it is done a few children should be taught dance. I want to make a book of 25 poems I have written.
We should live happily and peacefully with Vinuchetta. We are ready to face any crisis and neglect.
English Summary: Kerala couple Manju and Vinuraj heart touching love story