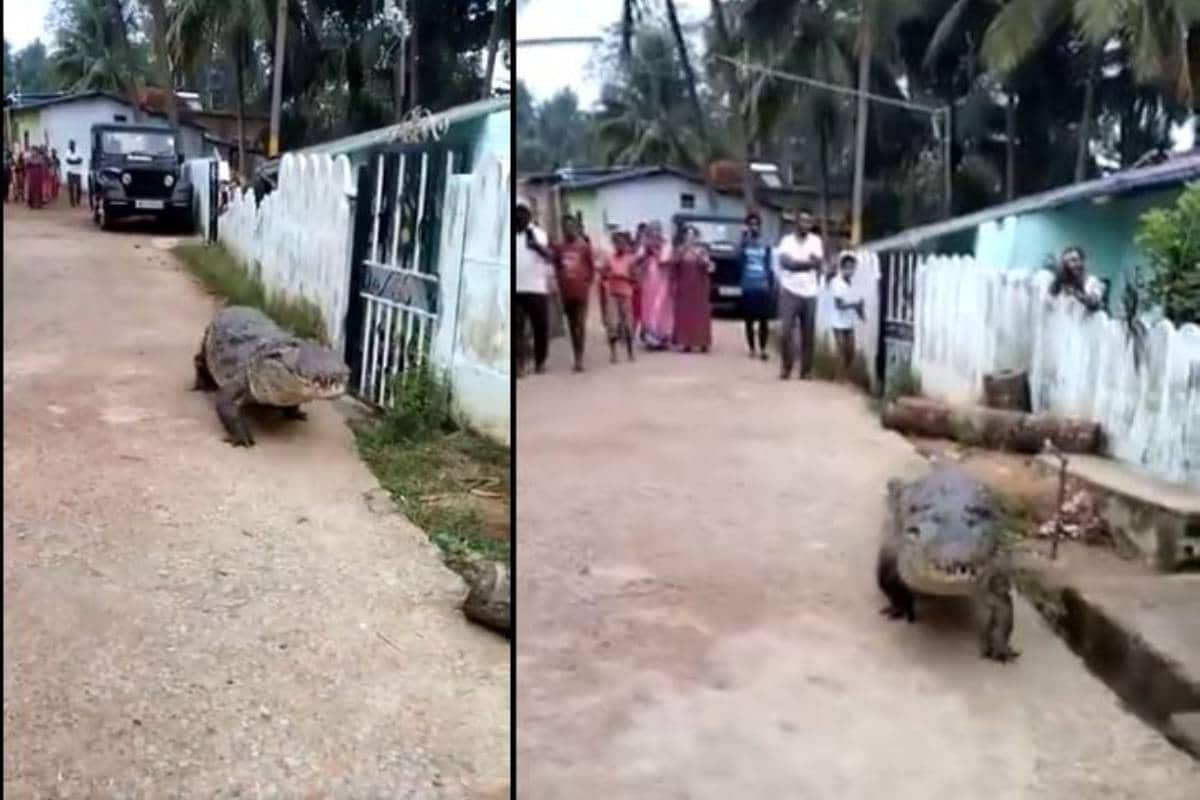 Karnataka: A video of a crocodile walking in a village in Karnataka has gone viral on social media. The crocodile landed in Kokilabanna village in North Karnataka last day.
Locals see a crocodile walking on the road on Thursday morning. With this, the locals also panicked. Indian Forest Service official Ramesh Pandey has shared a video of the crocodile on Twitter.
In the video, you can see the panicked locals behind the walking crocodile. It is believed that the crocodile reached the village from the river Kali, which is 5 km away from Kokilabanna village.
A crocodile got stranded in Kogilabana village in Dandeli, Karnataka. Forest officials rescued and released the animal back in its habitat. #rescue pic.twitter.com/RCPjofvsk9

– Ramesh Pandey (rameshpandeyifs) July 1, 2021
People including women and children had come to the spot after hearing the news of the crocodile landing in the village. After being informed by the locals, the forest officials reached the spot and rescued the crocodile. The crocodile was released into the river, officials said.
According to locals, the crocodile was spotted around 7.30 am. The crocodile wandered through the village for about half an hour. Forest officials then arrived. The crocodile was caught by forest officials 45 minutes earlier.
Viral Video | Beat back; Martial arts in wedding sari, video of the bride goes viral
The video of a Tamil Nadu bride wearing a wedding sari and performing martial arts is now going viral on social media. The bride from Thoothukudi district shocked everyone by performing traditional martial arts in her wedding dress.
You may also like:The crab that escaped adventurously from among the lions; Watch the viral video
The star of this video is P Nisha from Tirukoilur village in Thoothukudi district. In the video, Nisha, who is wearing a wedding necklace, first blows the whistle. Chilampattam can be seen later. Nisha performed such an exercise on her wedding day to convey the message that all girls should learn self-defense. The video went viral on social media. Not only Nisha, but Nisha's friends also performed 90 minutes of martial arts for the villagers.
There are many women in our country who are subjected to dowry oppression or other atrocities. Twenty-two-year-old Nisha's goal was to raise awareness about the need to learn martial arts for self-defense.