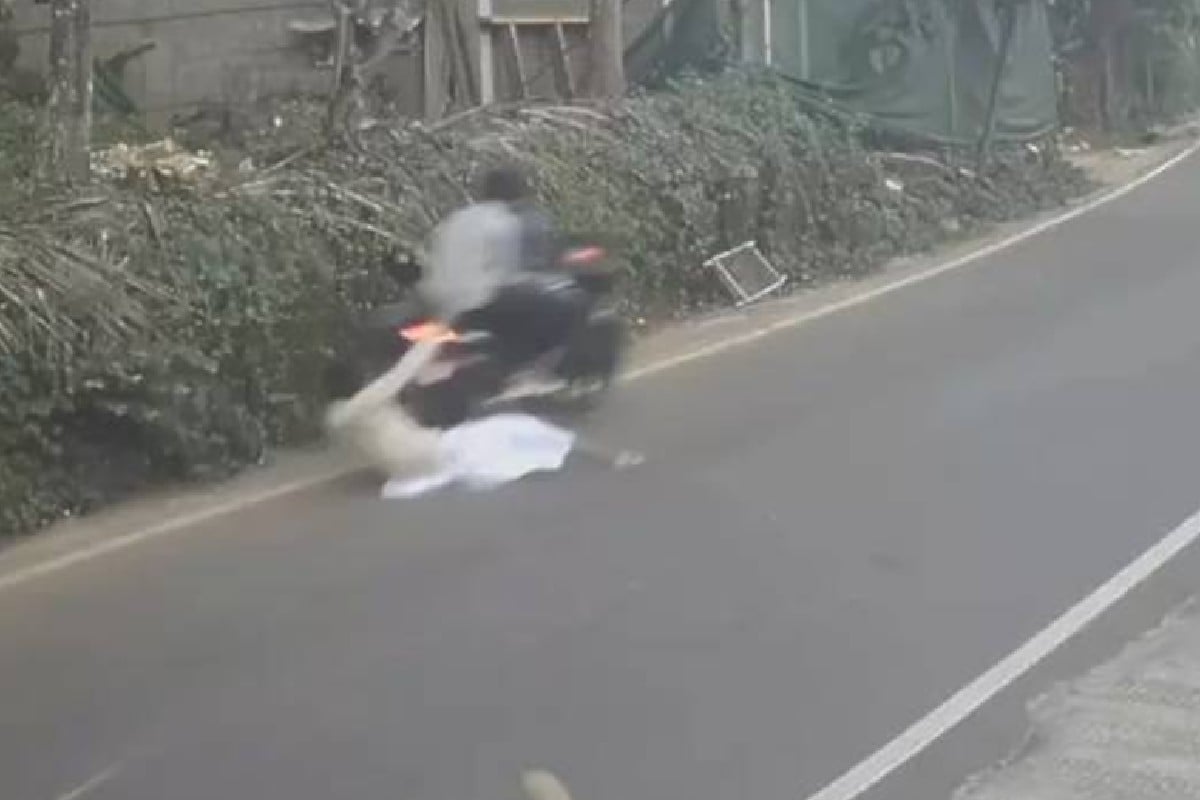 CCTV Visuals
Kozhikode: A mobile robbery gang dragged an out-of-state worker on a bike on the road. Ali Akbar, a native of Bihar, was dragged on a road by a group of robbers on a bike. Two people were taken into police custody in connection with the incident.
The incident took place at Vattoli in Ellet. The two men on the bike approached Ali Akbar, who was standing on the roadside, and asked for his mobile phone to make a phone call. The man on the back of the bike picked up the phone, dialed the number and pretended to be talking, and immediately moved the bike forward. Ali Akbar, who was riding his bike at the time, was dragged off the road for a long distance and escaped. Ali Akbar fell on the road and followed the bike again. Meanwhile, the person behind the bike also fell on the road. Ali Akbar chased him but could not catch him.
Ali Akbar has been admitted to Thamarassery Taluk Hospital with serious leg injuries. According to the police, the gang is behind this. The phone of one of the thieves fell down during the seizure. The locals handed it over to the police. Sanu Krishnan and Shamnas, both residents of Kakur, were arrested during a mobile phone search.
Police in the guise of shoplifting employees; The accused in the criminal case was netted in cinema style
The attacker, who is accused in several criminal cases, was caught by the police in cinema style while eating in a dormitory. Kishore Panchal, 29, was arrested by the Ahmedabad Police Crime Branch in disguise. Police released footage of the operation last Sunday.
The video of the disguised police team arresting the accused went viral on social media. The video shows four policemen reaching a thrift store in Bharuch and sitting at a table. Moments later, the police jump in cinematic style to catch the culprits sitting across the table. More and more policemen are circling around the suspect who is about to be arrested.
He is accused in several cases, including arms theft and vehicle theft. The crime branch was investigating two cases related to vehicle theft. The case was registered at Chandkheda and Sabarmati police stations. Police found that the accused was involved in it. After that, the police were secretly following him.
He was arrested on June 27 near Ekta restaurant in Amarpura village. Police had also made preparations before the arrest. A team was deployed near the area. Crimes have been registered against him in Rajasthan along with 10 police stations in Ahmedabad.
The teenager has been arrested in more than a dozen cases, including two vehicle theft cases being investigated by the Crime Branch. There are also cases of rape and robbery. Police found his residence and disguised themselves as swindlers. Police said they found a gun and two rounds of ammunition from the suspect.