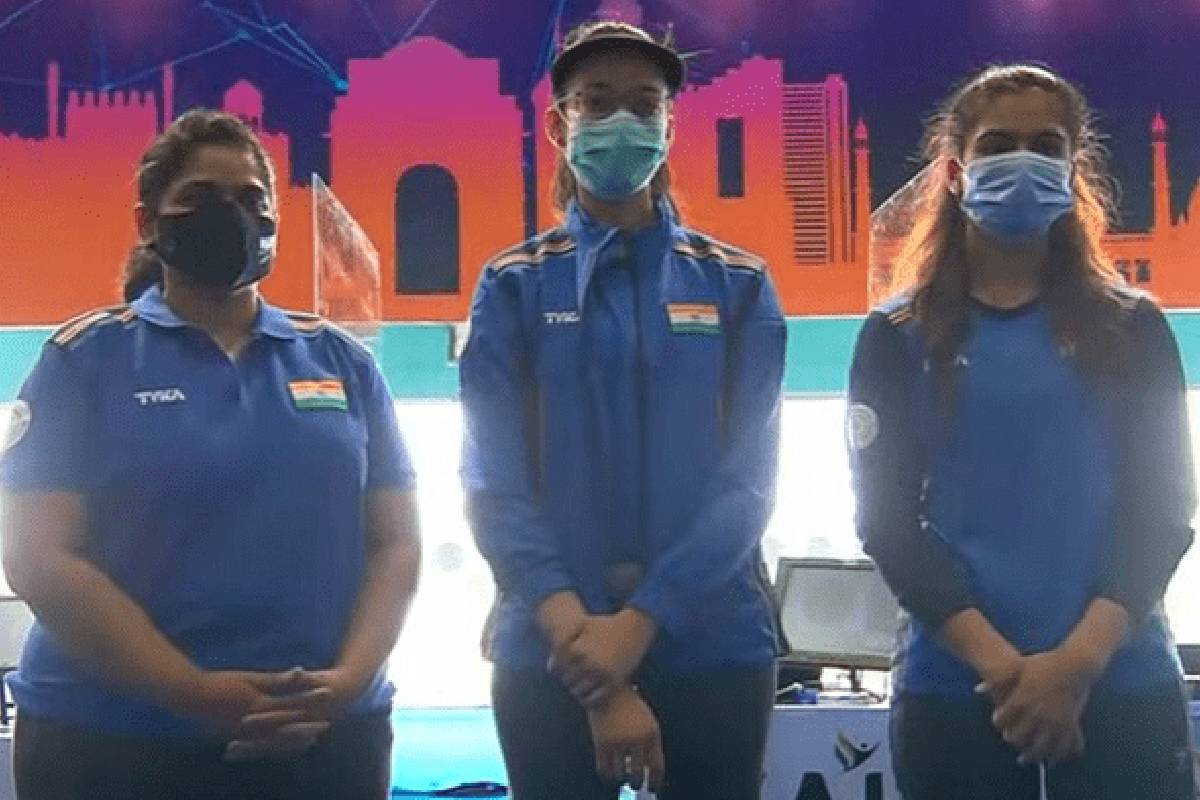 shooting India 25 m pistol
Medal shines for India again from Dr Karni shooting range in New Delhi. India won all three positions on the podium in the women's 25m pistol event at the ISSF Shooting World Cup. For the first time in history, three Indian shooters have won the top three spots on the podium together.
Chinki Yadav won gold, Rahi Sarnobat won silver and Manu Bhakar won bronze. All three have qualified for the Tokyo Olympics.
The shoot-off between Chinki and Rahi decided who would win the gold and silver medals. In the final match, there was an in-fighting between the two. At the end of their rounds, the two were tied with 32 points each. In the ensuing shoot-off, Chinki fired four of the five shots on target, while Rahi managed to score only three.
Earlier, the winner of the bronze medal match was decided after another shoot-off. In the shoot-off, the duo fired their shots at the target four out of five times. But looking at the overall score, Rahi went on to win the gold and silver medal 29-28
Was qualifying. Manu Bhakar had to settle for bronze.
India leads the World Cup with 19 points, winning nine gold, five silver and five bronze medals. The U.S. is second with six points, with three gold, two silver and one bronze, and Denmark is third with three points, two gold and one bronze. The World Cup, which started on the 18th, will end on the 29th of this month.
Meanwhile, India once again shines for gold in the ISSF Shooting World Cup. Aishwarya Pratap Singh Tomar won the gold medal for India in the men's 50m Rifle Three Position. Earlier, India's men's and women's teams had won gold in the 10m air pistol group event.
Dr. Karni Singh topped the shooting range with 462.5 points. Hungary's Istvan Penny (461.6) was second and Denmark's Stefan Olsen (450.9) was third. Veteran Indian Sanjeev Rajput, who was in the final, finished sixth and Neeraj Kumar eighth.
Summary- India shoots down Gold, Silver and Bronze in the Women's 25m Pistol event at ISSF Shooting Worldcup, New Delhi
Keywords- Shooting World Cup, Shooting World Cup 2021, Shooting World Cup India, Shooting World Cup Result 25M Pistol