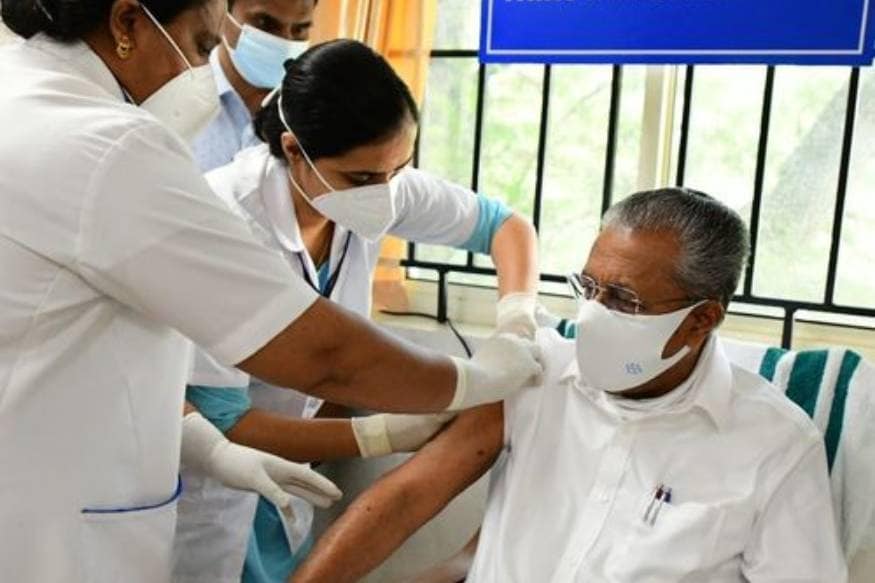 Image: Facebook
Thiruvananthapuram: Chief Minister Pinarayi Vijayan received the Kovid vaccine. The Chief Minister along with his wife Kamala arrived at the Thycaud Government Hospital on Wednesday morning and received the vaccine. The CM also shared a picture of the vaccine on social media.
"The Kovid vaccine has been adopted today. No worries, everyone should be vaccinated as soon as it becomes available. We can overcome the Kovid together." The Chief Minister shared the picture on Facebook.
To receive the vaccine After taking the vaccine, the CM told the media that no one should hesitate and everyone should come forward. The Chief Minister said that there was some propaganda against the Kovid vaccine but it was not accepted by the society and pointed out that it was the vaccines that had equipped mankind to prevent many deadly diseases in the world.

Kovid vaccination for those over 60 years of age in the state started yesterday as part of the second phase of vaccination in the country. Vaccination is for people over 60 years of age and other patients between the ages of 45 and 59 years. Vaccines will be available at government hospitals and selected private hospitals as per the guidelines of the Union Ministry of Health. Vaccination is free in government hospitals. The public can register directly.
You may also like:Do's and Don'ts Until You Get the Kovid Vaccine; Google's instructions are as follows
You may also like:'I only sympathize with those responsible for mocking any good deed': Minister KK Shailaja
Registration for the vaccine is required through the Covin portal (https://www.cowin.gov.in) and the Health Setu app. Must provide photo and basic information on identity card. A one-time password should also be used to verify the accuracy of the mobile number.

You can see the list of vaccination centers and the availability of vacant slots. Bookings can be made accordingly based on the available slots. A maximum of four people can register using one mobile number.
If the age of the beneficiary is between 45 and 59, it should be clarified whether there is any illness. You will receive a registration slip or token upon completion of the registration. Confirmation SMS to registered mobile number Will be available. The date for the second dose will be allowed at the time of booking the first dose.
Aadhaar card must be produced when arriving for vaccination. Other recognized photo ID cards will also be accepted. If you are between 45 and 59 years of age, you need to produce a doctor's certificate.
As many as 4.27 lakh vaccine doses were given till 7 pm last night, officials said. Yesterday alone, 2.5 million people registered for the Kovid vaccine on the Co-Win portal. Of these, 24.5 lakh are civilians and the rest are health workers and Kovid Front fighters.