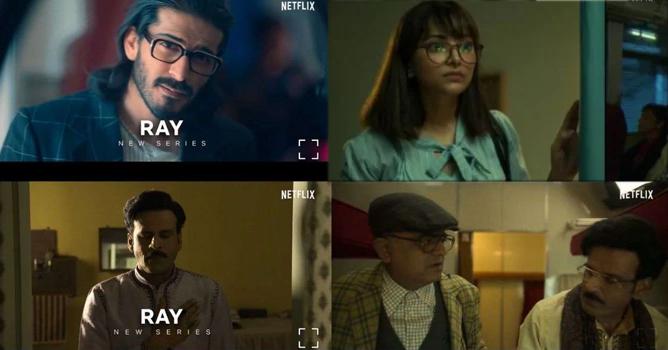 Love, deceit, lust, truth; Satyajit Ray 'Ray' web series with stories is gaining attention
The anthology web series based on the stories of film director Satyajit Ray is gaining attention. The series is directed by Sreejith Mukherjee, Abhishek Chaubey and Vasan Bala. The series has been released on Netflix.
Alifasal, Shweta Basu, Manoj Bajpayee, Girija Rao, KK Menon, Radhika Madan and Harshavardhan Kapoor play the lead roles. Malayalee actor Shruthi Menon is also playing in the series.
The screenplay is based on four short stories by Satyajit Ray based on love, deceit, lust and truth.
Ray's teaser was released on Netflix on May 28th. Netflix also released First Look pictures. The film is set to release on the 25th of this month. The four films are titled Hungama Hai Kyam Barpa, Forget Me Not, Bahrupia and Sotlight.
Manoj Bajpayee and Gajraj Rao star in Hankama Hai Kyam Barpa directed by Abhishek Chaubi. Ali Fazal and Shweta Basu Prasad will play the lead roles in Forget Me Note directed by Sreejith Mukherjee. The third film Bahrupia is also directed by Sreejith Mukherjee. Harshavardhan Kapoor will play the lead role in the fourth movie Sotlight directed by Vasan Bala.
The Netflix movie will not only commemorate Satyajit Ray, the creator of 36 films, including 29 feature films, 5 documentaries and 2 short films, but audiences are hoping that it will be an astonishing film when the film world remembers him as having a significant place in the history of cinema.
Click here to financially support Dolnews' freelance journalism
Dolnews can also be followed through Telegram and WhatsApp
Content Highlight: Ray Netflix series based on Satyajith Ray Indian Anthology film gets popular