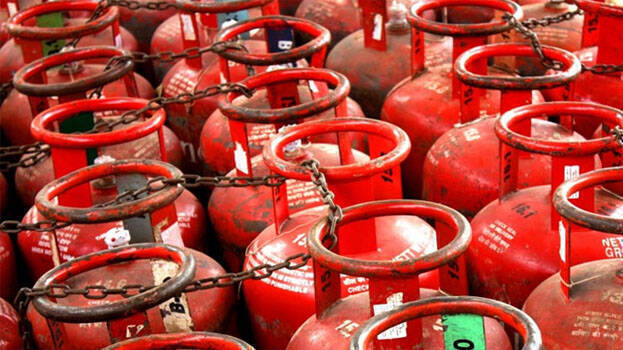 After December, the hike for domestic gas was Rs 240.50
Kochi: Oil companies have hiked domestic LPG prices by Rs 25.50 per cylinder, throwing the public into a frenzy over petrol and diesel price hikes in Kovil. In Thiruvananthapuram, it was Rs 844 per 14.2 kg cylinder. When the transportation charge of the distribution agencies is increased, the price will cross 900 in many places. 240.50 since last December.
The price of a 19 kg cylinder for commercial use has also been increased by Rs 80. It is priced at Rs 1,567.50 per cylinder.
Petrol price has crossed Rs 100 in many places and diesel is approaching Rs 100. In Thiruvananthapuram, the diesel price was Rs 95.79 yesterday. As diesel prices rise, so do the prices of daily necessities. And the high cost of LPG will upset the family budget. The rise in commercial cylinder prices has also hit the hotel sector in a major crisis in Kovil.
Traders in the Chalakam market said that the price of onion, red onion, potato and chilli from neighboring states alone has gone up by more than Rs 500 per 50 kg sack in the last two weeks as a result of rising diesel prices. Prices of chicken and eggs also went up. 120-130 for live chicken and Rs. 6 for eggs.
The market price to be paid
The Center had in September 2020 stopped the LPG subsidy citing low prices. Currently the subsidy is only for consumers in backward areas. Consumers received 12 household cylinders per year at subsidized rates.
Household gas inflation
In June last year, the price was Rs 603.50 per 14.2 kg cylinder. Now it is Rs 844. 240.50 during one year. 2020 The price hike started in December. 140 more in 2021 alone.
The increase is as follows:
December 2: 50
December 15: 50
January: No price change
February 4: ₹ 25
February 15: 50
February 25: 25
March 1: ₹ 25
April 1: ₹ 10 reduced
May: No price change
June: No price change
July 1: ₹ 25.50
Great achievement for the center
During April-June 2020-21, the Center provided a subsidy of `2,573 crore. Subsidy expenditure fell to Rs 445 crore in July-September. Expenditure in October-December was Rs 345 crore; 196 crore in January-March.