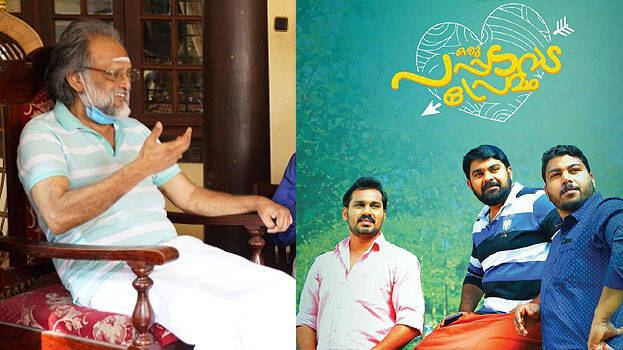 Here is another love song from the pen of Kaithapram who touched the hearts of the Malayalees through his love songs. The song "If you stay with me, you can jump into the sky like a golden van" has now become a super hit among music lovers. After a long hiatus, Kaithapram's collaboration with renowned music director K Rajesh Babu has released a new film titled 'Oru Pappadavada Premam' written and directed by debutant director Zair Pathan.
The love song is sung by famous singers PK Sunilkumar and Manjari. The song was released on social media. Debut singer SK Kirthana will also be seen in the scenes of the song. The first song of the film was composed by lyricist Nishant Kodamana and sung by Jassie Gift and Srikanth Krishna. "Oru Pappadavada Premam" is also a very important film for music. The film is about the fun love life of four lovers.
Kochupreman plays the role of Kunjappan, a big fan of Chief Minister Pinarayi Vijayan. The shooting of the movie is over. Cast – Zair Pathan, Kochupreman, Alia, Niha Hussain, Biju Kaladhar, Srikanth KC, Surumi, Kadakkaman Mohandas, Kanakalatha, Prince Philip, Santosh Kalanjoor, Mehjab, Rajukutty, Shobi, Pushpamani, Shenir Shah and Kuttan. Banner – RMR Productions, Production – RMRG North Room.
Written and directed by Zair Pathan, Lyricist by Kaithapram Damodaran Namboothiri, Vasu Arikkodu Music by Rajesh Babu K, Singer by PK Sunilkumar, Manjari, Jazzygift, Srikanth Krishna, Anwar Sadath, Ashwin Krishna, Kirthana SK, Production Controller, Joy Peor Music Arrangements and Associate Director – Shimjith Sivan, Visual Appearance (Singer) – Kirthana SK, Costume – Vishnu Gopinath, Camera – Prashanth Pranavam, Makeup – Kannan Kalanjoor, Art – Arun Kallummoodu, Stills Ranjith Chithralaya, PR – PR Sumeran.