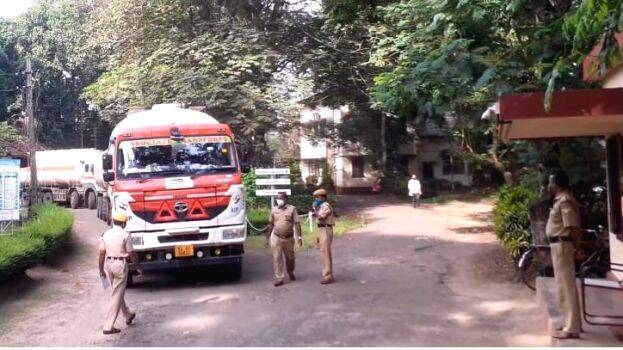 .5 9.5 lakh seized from cabins of tankers
Thiruvalla: A big scam was carried out by leaking the spirit of the brewery. Excise enforcement and legal metrology teams inspected tankers carrying spirit to Travancore Sugars and Chemicals under the state government, which found a shortage of 20,000 liters of spirit. It will cost Rs 30 lakh in the public market. Three tanker lorry drivers and staff were taken into custody. The excise team also found Rs 9.5 lakh in the cabin of the tanker lorries carrying the spirit.
6 lakh was seized from the cabin of one lorry and 3.5 lakh from another. The drivers have stated that the money was brought to hand over to Arun Kumar, a native of Thiruvananthapuram, an employee who keeps records of the spirit in the factory. He is a temporary employee of a distillery. A team led by the Deputy Commissioner of Excise and Enforcement is questioning Arun Kumar. More people have been reported to be involved in the scam.
Jawan Ram is manufactured at Travancore Sugars for the Beverages Corporation. The contract to supply 1,15,000 liters of spirit from Madhya Pradesh was awarded to a private company based in Ernakulam. The final load as per the contract arrived yesterday.
Excise enforcement has been monitoring the situation since crossing the border following a tip-off that tankers were running low on spirit. The excise team took into custody the drivers who entered the factory with the tanker lorry yesterday morning.
A search of two tanks of 40,000 liters and one tank of 35,000 liters turned up 20,000 liters of spirit. It is alleged that the lorries coming through Manjeswaram leaked the spirit at the border and sold it. Under the supervision of the Legal Metrology Department, a weight test was carried out on the tanker lorries at Way Bridge in Perunthuruthy. Today an accurate measurement of the spirit will be made under the leadership of an expert team of legal metrology.