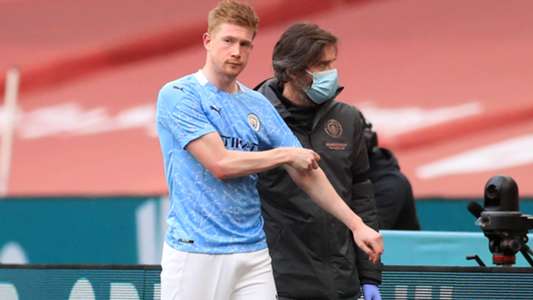 The Belgian international midfielder was sent off the pitch early in the second half, giving Pep Guardiola an untimely headache.
Kevin De Bruyne gave Manchester City a premature injury headache, with Pep Guardiola admitting he could have been seriously injured in Saturday's FA Cup loss at the hands of Chelsea.
There were less than three minutes of the second half on the clock at Wembley Stadium when a potentially winning presence was removed from the proceedings.
As a result, Pep Guardiola was forced to tinker with his plans, with Phil Foden instead introduced a talismanic presence on which City are hoping for a positive medical update.
What happened to De Bruyne?
There seemed to be little to the fight between De Bruyne and N'Golo Kante which led to the former seeing his afternoon cut short.
The City midfielder was heading towards the sideline with a French international behind his back.
De Bruyne sought to ward off Kante's attention, planting his right foot in the grass as he tried to keep a rival at bay.
The 29-year-old didn't appear to roll his ankle, but was clearly uncomfortable.
De Bruyne was unable to continue as he sat on the Wembley turf, with Guardiola therefore having to introduce Foden.
Less than seven minutes after replacing the Belgian, Hakim Ziyech opened the scoring for Chelsea and put them in charge of a heavyweight game.
Thomas Tuchel's side would hang on to that lead and launch City's historic quadruple dreams.
The big picture
Big games will continue to happen for Premier League leaders City at the end of their 2020-2021 campaign.
They will desperately want De Bruyne at their disposal for as many remaining matches as possible.
"He is in pain. Tomorrow they are going to do some tests, but they tell me it does not look good," Guardiola told the BBC after the final whistle.
Guardiola still has his side in the search for a national crown, Carabao Cup success and Champions League triumph.
City will return to Wembley next weekend to face Tottenham in the League Cup final, but travel to Aston Villa on Wednesday to participate before that.
Further reading