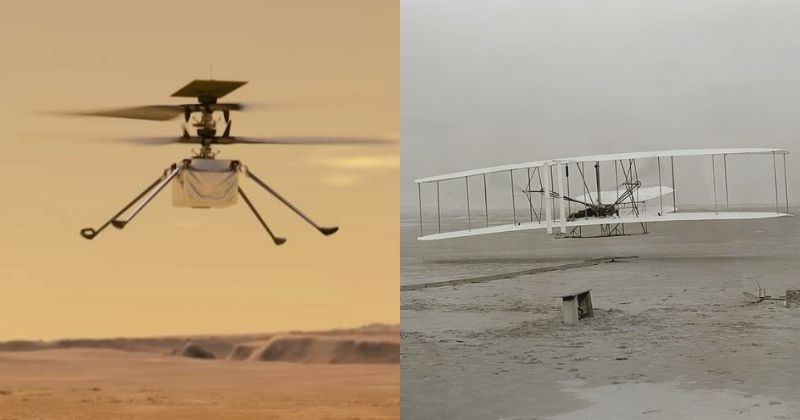 If you think of space travel and how humanity sends spaceships to Mars or launches and lands rockets in lower earth orbit, these feats are nothing short of amazing.
But all of this wouldn't have been possible without Wilbur and Orville Wright's contribution to this world with the invention of the very first airplane.
And to celebrate and honor this achievement, NASA with its Perseverance Rover and Ingenuity helicopter, sent a small fabric sample from the Wright Flyer from 1903 to Mars. The shade has now traveled a 300 million mile journey to the Red Planet after being gifted by the Wright brothers' great-great-niece and great-grand-nephew..
The sample was part of the original Wright Flyer I aircraft which currently rests at the Carillon Historical Park in Dayton Ohio after NASA requested it. It is a piece of muslin fabric cut from the lower left wing of the aircraft.
READ ALSO: Designed by IIT alumni, NASA's Ingenuity helicopter will make history on Mars
Amanda Wright Lane and Stephen Wright said in a statement provided by Carillon Historical Park: "Wilbur and Orville Wright would be happy to know that a small piece of their 1903 Wright Flyer I, the machine that started the space age at barely a quarter of a mile, go to dive back into history on Mars!"
Surprisingly, this isn't the first time that some of the first plane to fly has been to space. A fragment of the wood used to fly the plane to the moon with Neil Armstrong aboard Apollo 11 in 1960. Additionally, in 1998, a sample also accompanied John Glen into orbit aboard the Space Shuttle Discovery.
It seems like it's a lucky charm for NASA that it wants to get closer to them at the most difficult and revolutionary moment in human space exploration.. And it's really understandable why they would want him to accompany Ingenuity to Mars.
What NASA is doing with the Ingenuity helicopter is nothing less than a "Wright Brothers moment" because it will also be the first time that an aerial vehicle made on Earth will take off to Mars. The plane is scheduled to make its maiden flight on April 8, 2020.
The approximately two-kilogram aircraft will attempt to rise about 10 feet into the incredibly thin atmosphere of Mars, and NASA will gradually push its limits with longer flights over the course of a month.