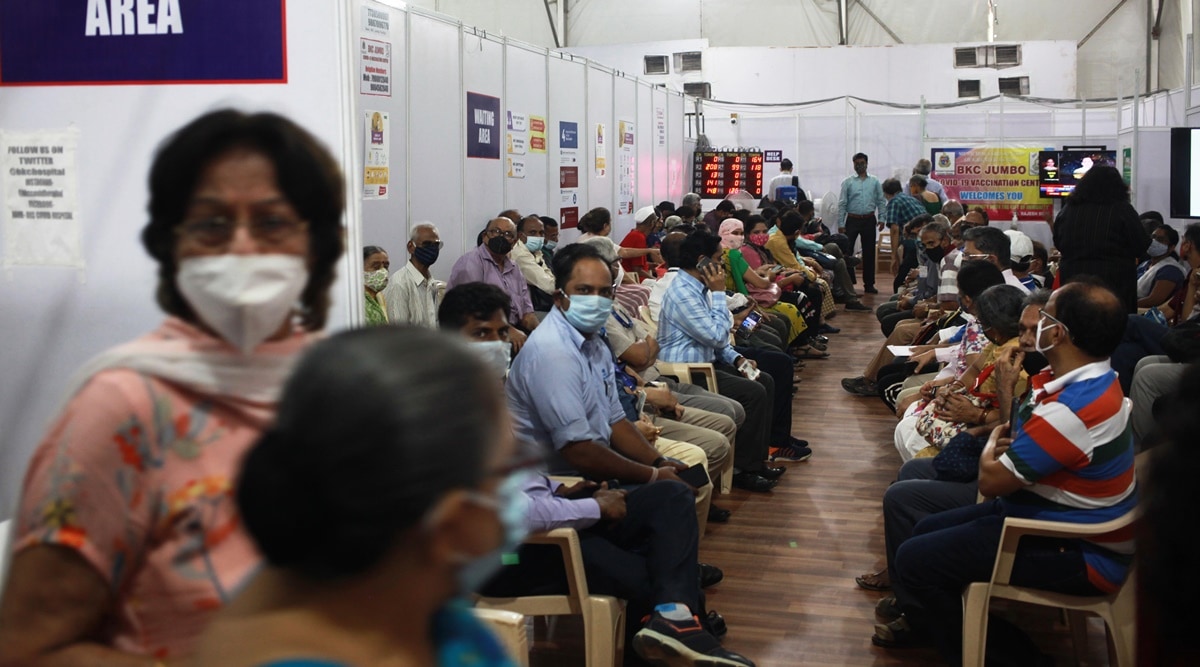 According to the Brihanmumbai Municipal Corporation (BMC), skyscrapers and other buildings continue to report the bulk of Covid-19 cases in India's business capital Mumbai. Mumbai has around 87,000 active cases, over 90% of which are concentrated in high-rise buildings, while slums account for only 10%.
The latest data compiled by BMC shows that non-slum areas comprising mostly skyscrapers and free-standing buildings, have 79,032 active cases. Slums, on the other hand, only have 8,411 out of a total of 87,443 active cases, as of April 16.
Analysts who are tracking the geographic spread of Covid-19 in the city, said Mumbai's rapid rise would likely be followed by a steep drop as well. A sharp increase in cases in high-rise buildings and free-standing buildings, coupled with a concerted vaccination campaign, may lead to a faster increase in seroprevalence, said Neelkant Mishra of Credit Suisse, in her analysis of the sharp increase in seroprevalence. case of Covid in the second. wave.
In July 2020, the results of the first serological survey showed that the seroprevalence in the slums was 57% against 16% in the non-slums. However, in August, a second survey showed that seroprevalence was lower at 45 percent in slums and increased slightly to 18 percent for non-slums.
During the first wave, the slums were the most affected. For example, in June 2020, of the total number of Covid cases in the city, almost two-thirds were reported in slums and chawls, which have a high population density. And 42 lakh in the slums were in containment areas, compared to 8 lakh residing in buildings.
The different contours of the geographical distribution have also prompted the BMC to revise its SOPs. On April 5, City Commissioner IS Chahal released a new standard operating procedure (SOP) to declare housing companies as micro-containment zones if they had more than five active cases. Now, members of the board of the housing company are responsible for ensuring that Covid-19 guidelines are followed.
BMC data shows that the greatest number of 273 sealed buildings or micro containment zones are in the K-West district (Andheri, Jogeshwari), followed by 247 in the D district (Malabar Hill, Grant Road) and 147 in the F-sud district (Parel, Seweree). The majority of the population in these areas live in high rise buildings. While 1,169 buildings are currently sealed, the number of sealed floors has also increased to 10,797 across Mumbai. More than 20 lakh people are in micro containment areas and sealed floors.
"Following the high number of cases in buildings, BMC officials are monitoring violations. An FIR was recently filed against residents of apartment buildings after discovering they were walking outside after testing positive for Covid, "a BMC official said.
Ward D deputy municipal commissioner Prashant Gaikwad said he had to hold meetings with housing companies before implementing the rules for the micro containment zone. "There was a lot of confusion in the housing companies because under the new rule, the company's board members were tasked with ensuring that the guidelines were followed. I interacted with the housing companies via a zoom link to clear up their confusion, "Gaikwad.
Mumbai is seeing an increase in the number of daily cases. In January and February, the city reported around 23,000 new cases per day, but in March, it even recorded almost 90,000 cases per day.