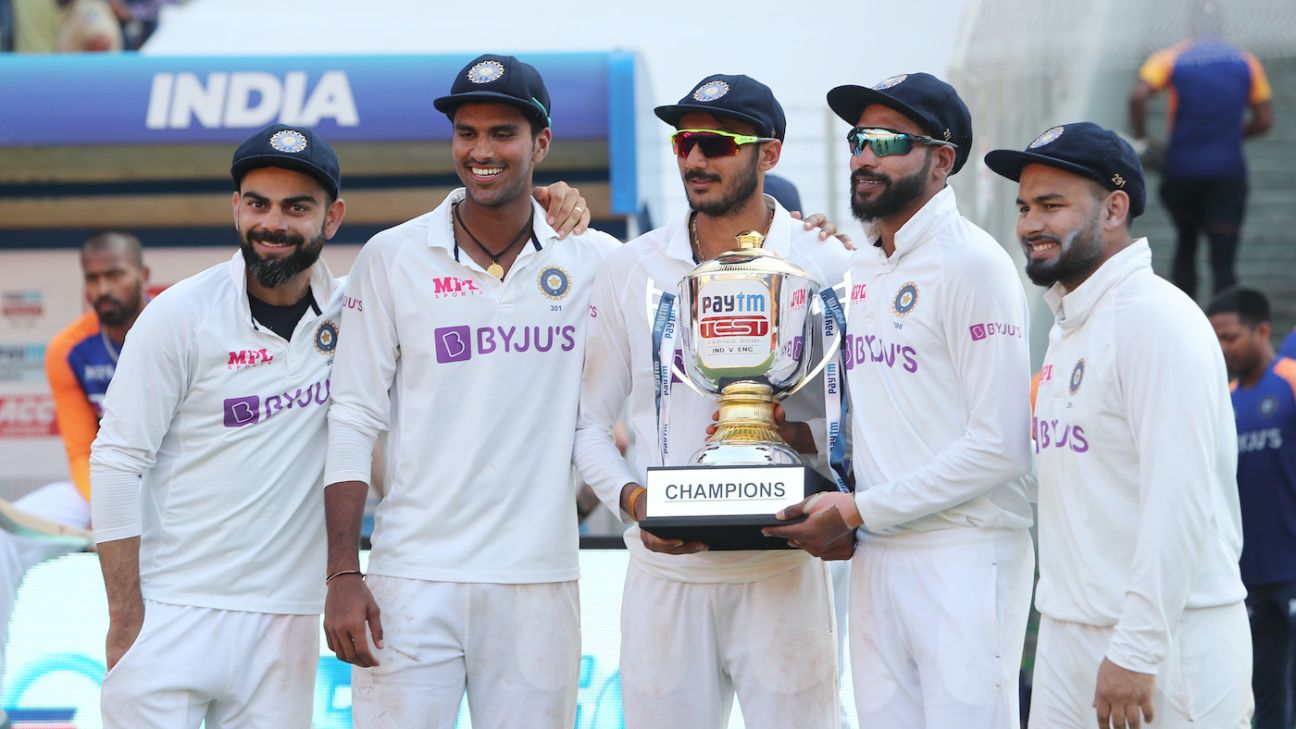 Comment
They are producing formidable young cricketers at an impressive rate
All thoughtful cricket opponents must have dreaded the day India got it right.
It is the day when India unearthed all the talent available, then fully capitalized by selecting its best team. This era is well and truly upon the rest of the cricket world as India has shown its incredible depth over the past few months.
The emergence of talents such as Shubman Gill, Mohammed Siraj, Navdeep Saini, Washington Sundar, T Natarajan and Axar Patel would have been monumental if it had happened in the span of three years, let alone three months. And when you consider that Shardul Thakur only excelled in his second game and the scorching Rishabh Pant was an international match winner ahead of his 20th appearance, it really is a rosy picture.
A pink image, ie if you are an Indian fan; for the rest of the cricket world it's scary.
This is even more imposing considering that among these newbies, only Gill and perhaps Siraj would play when all the players were available for selection.
The image reaches a real glow when you consider that Ishan Kishan, Suryakumar Yadav, Prasidh Krishna and Krunal Pandya all made successful debuts against England.
An abundance of talent like this is reminiscent of the West Indies and Australia during dominant times when they were overflowing with good players, many of whom struggled to make the first XI.
In the case of the West Indies, it was mainly a surplus of fast bowlers during a dominant period that prevented serious pacemen like Wayne Daniel, Sylvester Clarke, Winston Davis, Patrick Patterson and Ezra Moseley from having substantial careers in testing. When Australia dominated at the turn of the century, capable drummers like Matthew Elliott, Darren Lehmann, Stuart Law, Martin Love and, at the start of the period, even Matthew Hayden and Justin Langer, struggled to find a permanent place.
Surpluses like this give selectors a stomachache from force-feeding, but it's much better than the pain of searching for pieces in a bare pantry.
1:46
Manjrekar: "Excited by India's talent pool"
Not only is India now in the enviable position of having a surplus of young talent, but the applicants are also very competitive cricketers.
Gone are the days when some Indian players quietly turned to an opponent and confessed to him: "You are my idol". As a former Indian cricketer told me, "there were some players who just wanted to own the sweater and the cap". There is no way you will hear in the current Indian locker room the statement: "Why me?" as happened when a test team was announced on the 1977-78 Australian tour.
It was Ranchi-born MS Dhoni whose success inspired young cricketers in remote areas to suddenly believe they could play for India. The belligerent Sourav Ganguly's style of captain encouraged all the players in the Indian team to believe they were on a par with their opponents. This belief grew under the leadership of Dhoni, followed by the highly emotional leadership of Virat Kohli.
India's recent successes in Australia – especially the latest one – have only reinforced players' belief in their ability to win under any circumstance. At a time when teams are struggling overseas, India now has the depth of talent to change this pattern. Opponents can no longer afford to say, when India is on their doorstep, "Just pick a string of fast bowlers with long run-ups and the series will be ours."
Can India reproduce the dominant periods of the West Indies and Australia? It's a much more difficult proposition these days, with an additional form of play, a scary schedule, and the riches of the IPL, not to mention a pandemic to bypass.
However, India has finally found the right equation and as long as it avoids the pitfalls often associated with continued success, it is better equipped than any team to produce an era of domination. Watch out for the rest of the cricket world.
Former Australian captain Ian Chappell is a columnist