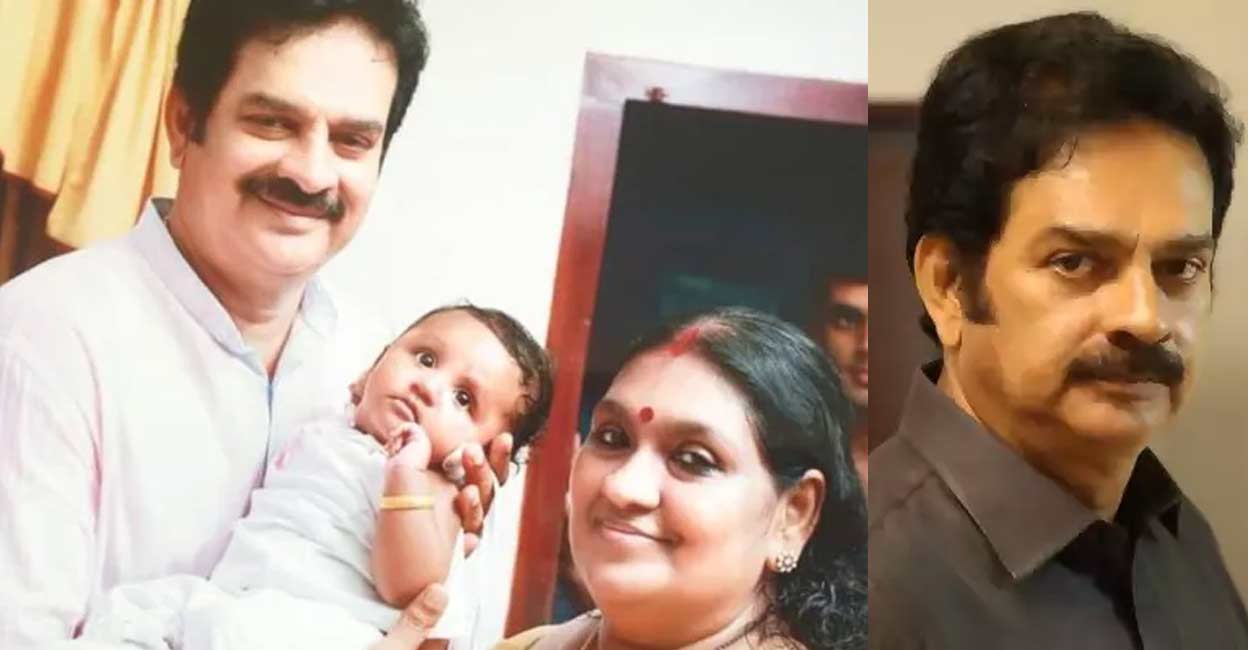 Devan's wife Zuma, an actor and politician, died in July two years ago. God's note about his wife's last moments hurts the audience. Zuma died while undergoing treatment for H1N1. Zuma is also the daughter of renowned film director Ramu Kariyat.
Words of God:
Today is Doctor's Day …. My congratulations to all the doctors in the world on this day ….. The first doctor I remember was Dr. who treated me at the age of six and gave me life back from a very deadly disease called diphtheria. Sunny is …. a few moments when a doctor becomes a god … then the moments when a doctor becomes a god in front of me are with my brother-in-law (Chechide's husband) Dr. Rabindranath … the most accomplished doctor I have ever seen in my life …. a medical magician .. A doctor with unparalleled ability and mind … but at the age of 42, God called the groom …
Have you seen God ?? Yes, we can point to a doctor and a nurse and say … so we remember July 1st as the day of those good men like God … their service to human beings will never be forgotten … salutations and respect to those good men on this day …
I feel like telling you a sad story that came to my mind after writing this … July 2019 is the time before Kovid …
We are anxiously waiting outside the CCU of a private multi-specialty hospital in Kochi … I, Chechi, Ravichettan, Babu, Livi, Lathika, Lachu, Sunil …. I look in through the glass door from time to time … She is lying with her medical tubes fixed on her face and body. … My Zuma … She ate the ice cream that the doctor told her not to eat. She was lying in a critical condition with allergies. She was transferred to the room on the third day. The doctor said, "Let's see today and discharge tomorrow." She laughed too, and we …
The next morning she had difficulty breathing … She was transferred back to CC … The doctor asked, "Did Zuma go to a crowded place the other day?" I said no. How could she not go out? Then the doctor said she had a H1N1 virus infection, let's see. " ..I'm sure she's not out … then there will be an infection? … big question ..? .. this question is the main reason for writing this …
My friends called the doctors … they also confirmed that it was an H1N1 infection … two or three days later I realized … that the infection was not from outside, but from inside … from the CCU … so 30 days was a battle … from the ventilator Transferred her to a terror machine called Ecmo … only 5% expected …
However, the doctors did as they were told … when the dose of sedationte was low, she called to see if she could hear the call. Everyone was watching without shedding tears … Everyone was calling … She was trying to open her half-closed eyes … She couldn't .. I looked back .. I saw the nurses opening their eyes after seeing this scene .. I understood the meaning of their facial expressions … Now she Never called …
On the 14th day of using Ecmo … the doctors called me in the conference room and asked … "Are you prepared Devan?" .. Immediately answered … Yes Doctor .. I am …
"There is nothing we can do now .. Stop all medicine … Next life support must be removed … It is up to you to decide …" I went straight to the Tharavad temple in Chetuva … Proved all the prohibitions and prayed from the path of the Goddess with unbearable pain I can see the face of my Zuma who is trying to open her eyes without being able to hear our call and then … "Enough Mommy enough, no more pain for her .. Put her back, I submit her on these feet" .. This was my prayer ..
By noon I was in front of the doctors … I signed her death sentence … In the evening the notice came … that it was all over …
The reason I write my experience so explained is because most people like me who have read this have had this experience … No matter how much money or influence we have, we are all equal and helpless in terms of pain …
Congratulations on this good day to the doctors … You should never take advantage of our helplessness and ignorance … There are more good people among you … But there are also bad ones … This request is to them …. Do not abandon treatable patients for lack of money..As well If you find that there is no cure, they should be allowed to die.
Now to the management of the multi-specialty hospital … you need to modify your ICU and CCU … to put a plastic curtain in a spacious hall and turn each patient into an air tight compartment so that one patient's infection does not spread to other patients without placing very critical patients. … can be implemented if good senior doctors think …
My heartfelt congratulations to all our doctors who have taken so many risks and risked their lives to serve during this Kovid period …
Devan Srinivasan