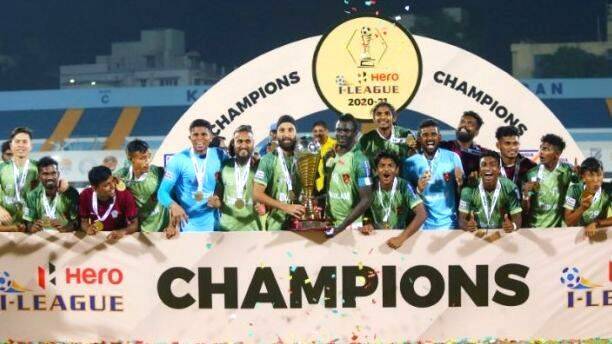 Gokulam Kerala did not have to brag on the billboards that it would pay off its debts. Because Gokulam does not pay off debts to pay off debts. Gokulam has clinched his maiden I-League title without much fanfare on social media. But Gokul's success teaches us that it's not a matter of words, it's a matter of deeds.
Gokulam is proud of the football history and tradition of Kerala. Kerala is said to be as big a force in Indian football as Kolkata, but clubs from Kerala have never won a national league title. The Federation Cup won by the Kerala Police 30 years ago was the last trophy of the Kerala team in an AFC-sponsored national tournament. The Kerala Blasters reached the ISL final twice but did not win the cup. Gokulam Kerala was the last to wait for that.
The arrival of the Kerala Blasters gave a new impetus to Kerala football, but they fell short of expectations. At the start of the last two or three seasons, the Blasters were giving fans too much hope and at the end they were embarrassed. But Gokul did what the Blasters could not. The hollow claims were so low that it did not earn much hate from the fans.
Gokulam Kerala has won four big titles in four years. First the Kerala Premier League, then the Durant Cup. This was followed by the National Women's League Championship. It was at a time when the big clubs in India were reluctant to field a women's team that Gokulam prepared for it with the best women talents in the country.
Gokulam now with AFC Cup qualifiers Kerala Club with I League title. Gokul has reached this level in four years with the support of owners interested in football. Gokul will now be able to conduct races on the mainland. And to become a role model for other professional clubs in Kerala.
The secret of Gokul's success
Support from management with excellent professional skills
Italian coach Annis with youthful outlook.
Bringing the best players from abroad according to the needs of the team.
The foreign players quickly merged with the team.
There was no need to waste time experimenting with formation.
This is the best moment of my life. We were the most deserving to be champions. I am very proud of my team.
Vincentio Annis
Gokule Kerala Coach
The CM congratulated him
Thiruvananthapuram: Chief Minister Pinarayi Vijayan congratulated Gokulam Football Club on winning the I League title. This is a proud achievement for the sports sector of Kerala. Congratulations to the winning team and coaches for their outstanding performance. The Chief Minister wished that this victory would inspire more achievements in the future.