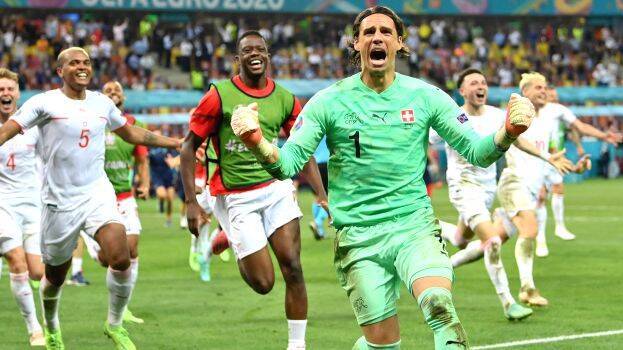 Monday night was a goal-scoring affair in Eurocup football. Only 14 goals came from two pre-quarter fights. Another nine kicks to the right in the shootout. The night of Euro 2020, the tournament with the most goals in Euro Cup history, was also a coup.
They are Swiss
Switzerland beat World Cup winners France in a penalty shootout
The Swiss won the shootout 5-4, 3-3 in regulation and overtime
French young superstar Killian Mbabane wasted a penalty
Bucharest: Switzerland reached the quarter-finals of the Euro Cup for the first time in their history, beating World Cup winners France in the first penalty shootout of the tournament. The match ended in a 3-3 draw in regulation time, but the shootout ended in a draw. The last World Cup superhero Killian Mbabane, who took the last kick for France, missed the only goal of the match for Switzerland.
The Swiss shocked France early in the first half with their first goal of the match. The Swiss wasted a penalty early in the second half against France after conceding a goal in the first half. Rodriguez was blocked by a beautiful save from French captain and goalkeeper Hugo Lloris. Karim Benzema then put France ahead with two goals in the space of two minutes. Paul Pogba increased the lead to 3-1 with his bullet shortly afterwards, but Croatia were on the verge of a draw against Spain shortly before. The score line shootout, which did not move in overtime, was inevitable. When Loris could not stop a single Swiss shot, the Swiss goalkeeper blocked Mbabane's own shot and set up a dream-like quarter entry.
Eightfold strength
8 goals were scored in the Spain-Croatia pre-quarter. Five are from Spain. Three are Croatian.
The second most capped match in the Euro Cup.
Second match in a row with Spain scoring five goals
Copenhagen: Spain advanced to the quarter-finals of the Euro Cup after beating Croatia 5-3 in extra time with eight goals.
In the beginning, Spain conceded an own goal with a stupid goal. Croatia, however, extended their lead in extra time by scoring two goals just before the end of regulation time, shocking Spain, who had secured the victory with three counts. Spain scored two more goals in the first half of extra time.