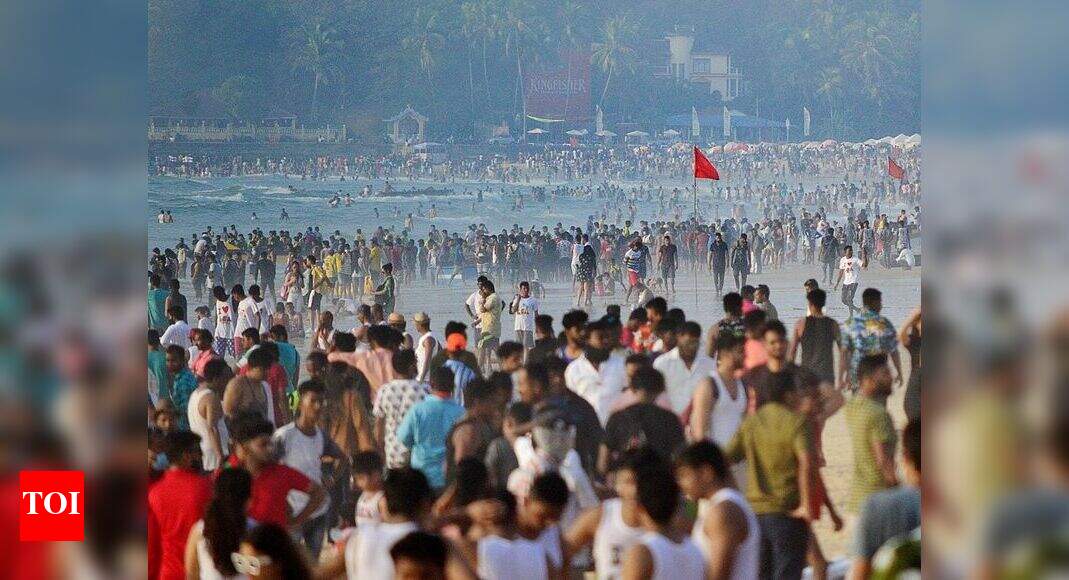 PANAJI: Chief Minister Pramod Sawant on Thursday challenged an advice from the Center as well as pointed suggestions from his own health minister to take action to enforce security measures ahead of New Year's celebrations in the state.
Even though Vishwajit Rane, who holds the health portfolio, said he spoke to Sawant about imposing a nighttime curfew in the direction of Delhi and Karnataka, Sawant maintained that the government did not had not declared such an action.
Rather, the CM's solution was to "ask" tourists, hoteliers and party planners to follow standards to prevent the spread of Covid-19.
Sawant's non-action comes even as tourists swarmed the state for year-end celebrations and are seen crowding beaches and other popular spots without masks and social distancing. The collapse of all standards has worried residents and doctors alike, who fear it will be only a matter of time before the public health system is overwhelmed again.
"One look around and you realize that the government doesn't really want to control Covid," well-known orthopedic surgeon Dr Sambprassad Nadkarni wrote in a post widely shared on social media. "If there is an increase in the number of cases, healthcare workers will have to bear the brunt of it and pay dearly for the failure of government and the public," he said.
"Wear masks, avoid public gatherings"
A similar sentiment prevails in public health circles. "People move around without wearing a mask. Tourist places are crowded. I would wait until the second week of January to see if there are any ripple effects, "a government health official said on condition of anonymity.
On Wednesday, the Center called on states and union territories to maintain strict vigilance to curb large-scale events and places where crowds might congregate to celebrate the New Year.
It was this directive that prompted Rane to talk to Sawant about a possible curfew. "Goa being a state of tourism, it is imperative to put in place strict SOPs so that we can support tourism activities in line with the guidelines of Covid-19," the Minister of Health said.
Tourists enjoying the last sunset of 2020 amid the Covid-19 pandemic on New Years Eve at Calangute Beach in North Goa on Thursday. (Photo: Rajtilak Naik)
The Center also advised states and UTs to impose restrictions, including a nighttime curfew, after assessing the situation in their respective jurisdictions.
On December 27, TOI had laid out a photo of a huge swarm of tourists at Baga Beach on Boxing Day. However, even after overwhelming evidence of potential super-spreader events, Sawant's "assessment" of the situation (as advised by the Center) did not require any additional restrictions, resulting in free-for-all on New Year's Eve.
Late in the evening, Rane tweeted again after Sawant rejected his call for tougher measures and called on the public to voluntarily follow SOPs and behave like responsible citizens.
"Our doctors are working very hard (and) saving people's lives during the time of Covid-19," he said. "We all know there is a new strain of coronavirus, and our doctors are not only risking their lives, but also the lives of their families, to save every citizen of our state."
He also called on the public to respect doctors and health workers. "The only way to do this is to follow strict SOPs, wear masks at all times, maintain social distancing, and avoid public gatherings."
Despite voice calls on social media and elsewhere for things to go haywire without strict enforcement, Sawant was convinced that there was no need to take any further action, preferring instead to justify it with "even mass in churches and the zatras are celebrated with social distancing ".
Even as Goa's Covid numbers steadily decline, the new mutant strain of the virus, reported to be even more contagious, already has the center and says it is struggling to contain it.
On Thursday, the Telangana High Court said the new strain was spreading like wildfire and called on the state government to impose Article 144 and the nighttime curfew to combat it.
"An infected person in a party room with 200 people can infect all the detainees at once," warned the bench, led by the chief justice. "No party. Nothing. Just article 144. Why can't the state do this?" The court asked.