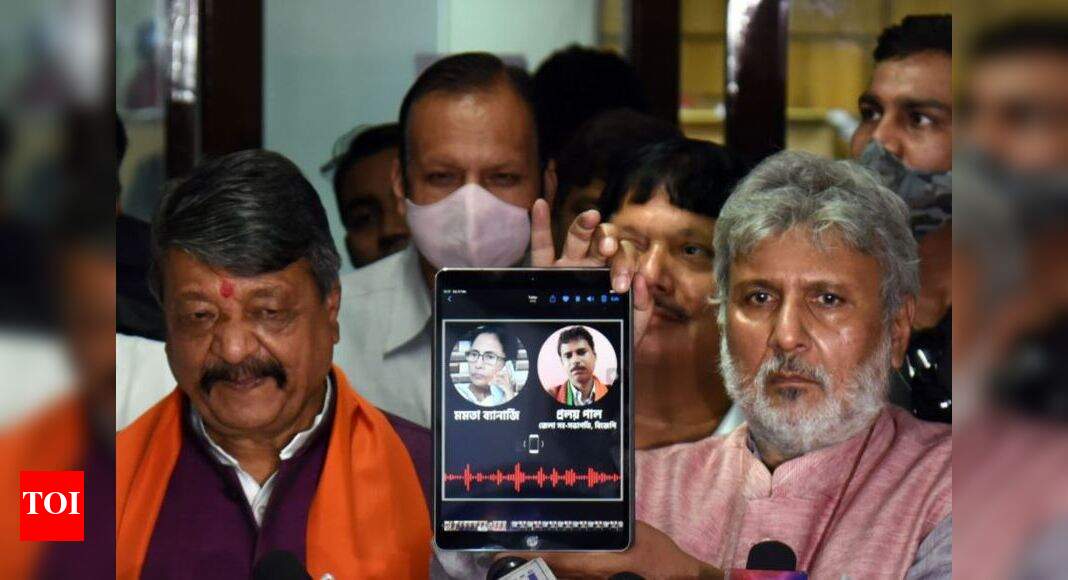 NANDIGRAM / KOLKATA: The BJP published a telephone conversation on Saturday, allegedly between West Bengal CM Mamata Banerjee (Nandigram contestant) and BJP's Tamluk organization district vice president Pralay Pal, in which a voice, allegedly that of the CM, is heard urging Pal to return to Trinamool.
Pal, who lives in Birulia in Nandigram, said he refused the CM's offer and would work for "Suvendu Adhikari's victory in Nandigram". The alleged conversation sparked a bitter war of words between Trinamool and the BJP.
TMC, meanwhile, cited an audio clip in which two senior BJP politicians – Mukul Roy and Shishir Bajoria – are said to be discussing moving the Election Commission to allow any voter in Bengal to be a polling agent. anywhere in the state. On March 18, the EC amended its rules, allowing anyone within an assembly segment to be a voting agent within that specific seat. The previous rule required that the returning officer be an elector of that booth. Kunal Ghosh, the Trinamool spokesman who released the audio clip to the media on Saturday afternoon, claimed BJP politicians had influenced the EC to change poll standards.
Regarding the audio tape of a voice supposed to be that of the CM, Bengal Minister Subrata Mukherjee first demanded that it be made public. "I urge the media to phrase their questions a little differently. Where does this ready-to-use cassette come from? When we talk to someone, are we recording the conversation? It seems to be planned meticulously. We are asking for an investigation to find out the origin. "He told reporters. "But I'm proud that my leader is Mamata Banerjee. If a dedicated party worker leaves the party, what's wrong with calling them in the first place," he said, adding: "Even Indira Gandhi and Priya Ranjan Dasmunshi had called to persuade me. "
BJP chief Shishir Bajoria, while playing the audio clip at a press meeting, said: "If the CM, who is now the acting CM, could not have entered Nandigram as she did. Told BJP district vice president Pralay Pal, she doesn't. deserve to be the CM. A leading person as she seeks help from a BJP district leader. This gives enough help. indications of what will happen on results day. "
BJP General Secretary and Bengal Guardian Kailash Vijayvargiya, referring to the alleged telephone conversation, said: "Only a candidate who has accepted defeat can speak the way Mamata Banerjee spoke." BJP Bengal co-head Amit Malviya also tweeted saying "Pishi is definitely losing Nandigram and TMC Bengal".
In the tape, BJP's voice says the CM is being heard saying, "You should help us win Nandigram. Listen, I know you have grievances, but this is mainly due to the Adhikaris who never allowed me to get into Nandigram or East Midnapore.. I'll take care of everything from now on. "To that, Pal admits he replied," Didi, you called me, and I'm honored. But I can't betray the Adhikaris because they supported me through the thickets. "
Pal, who was initially with Congress and later joined Trinamool, had defected from BJP long before Suvendu Adhikari. Pal is among the party's top political leaders in Nandigram. Pal's house in Birulia is also Suvendu's electoral office. "There is a difference between the hardworking party workers who leave and the traitors. Even assuming the clip is true, it says a lot about our party leader who is ready to reach out to the workers who toil for the party. It's just natural in politics, "TMC state spokesman Kunal Ghosh said.