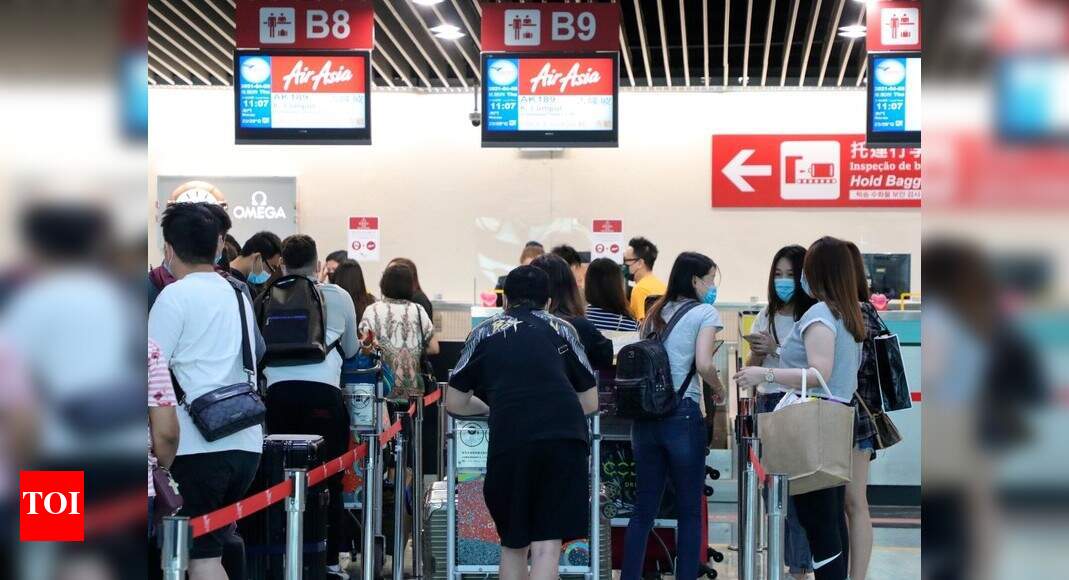 NEW DELHI: Hong Kong has banned passenger flights from India, Pakistan and the Philippines for 14 days from Tuesday April 20 due to fears of coronavirus mutants. Passengers who stayed there for more than two hours to board a transit flight to Hong Kong were also banned for 14 days.
These three countries "will at the same time be specified as specified very high risk (Covid) places … in order to prevent people who have stayed in these places from boarding for Hong Kong," a statement from government of Hong Kong. .
This Special Administrative Region of China has a "location specific" mechanism whereby if five or more passengers from one location test positive on flights from there – regardless of the airline – over a period of time. seven days, passenger flights will be banned Hong Kong for 14 days.
The statement quotes a government spokesperson as saying, "With confirmed cases involving the mutant strain N501Y first detected in the Hong Kong community, out of concern for caution, the government retrospectively applied the criteria for the mechanism. Newly implemented location specific flight suspension. for 14 days at places where there had been imported cases confirmed by arrival tests carrying the mutant strain N501Y. India, Pakistan and the Philippines have all recorded a cumulative seven-day number of relevant cases that have met the relevant criteria in the past 14 days, and the government will therefore invoke the specific flight suspension mechanism for these instead. three places. "
Hong Kong and China do not have an air bubble with India. Air India and Vistara operate special flights as requested after being granted permission to meet the demands of the huge Indian diaspora there. The location-specific suspension mechanism for India, Pakistan and the Philippines will be in effect for 14 days from April 20 at midnight.
"The relevant restrictions will include a ban on passenger flights departing from these places to land in Hong Kong, as well as … restricting anyone who has stayed at these places for more than two hours on the day of embarkation or 21 days before this embarkation day for Hong Kong, "the statement said.
Earlier on Sunday, Hong Kong banned Vistara from operating flights out of Mumbai until May 2 after its April 18 flight saw three inbound passengers tested positive. By the way, Vistara was banned for two weeks from April 6, 2021, two days after several passengers who flew there tested positive. Emirates, KLM and Scoot are also currently banned for the same reason. So far, during the pandemic, Hong Kong has repeatedly banned Vistara and AI from flying there for 14 days after incoming passengers tested positive on arrival.
But late Sunday night, Hong Kong decided to ban the flights of all passenger flights from India, Pakistan and the Philippines for two weeks.