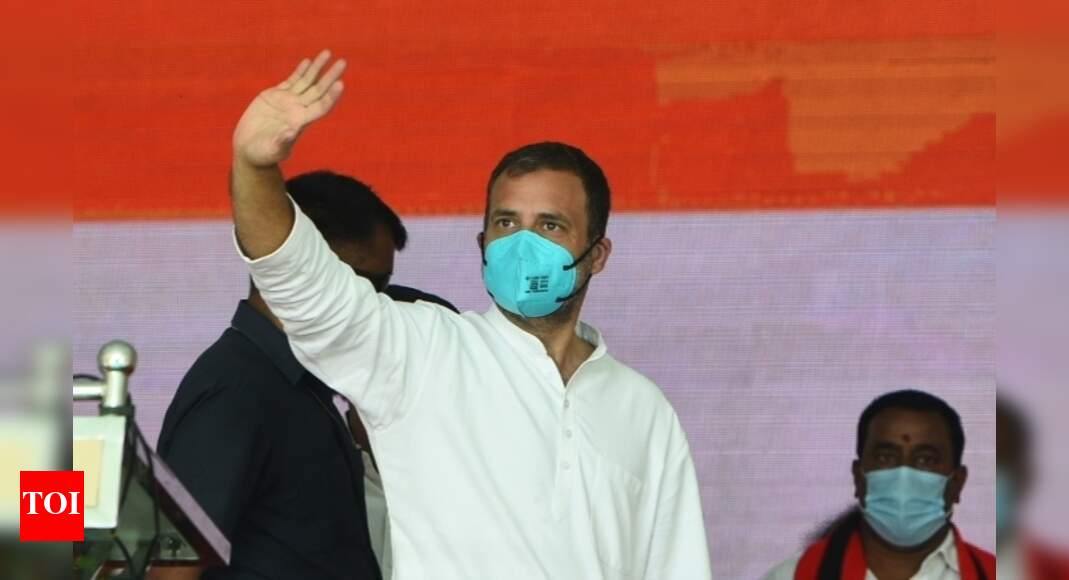 CHENNAI: Former Congress President Rahul Gandhi assured Sunday that his party and the DMK would never compromise on ideologies that go against the interests of Tamils ​​and Tamil Nadu.
"The BJP and the RSS will be crushed in this election, which is different from the previous elections, which took place between the political parties. This is a Tamil election, with the AIADMK, the BJP and the RSS d 'one side and the people of Tamil Nadu on the other side,' Rahul said after arriving in Chennai to campaign for the DMK-Congress alliance.
"The Democratic Progressive Alliance of Congress, DMK and allied parties are with the people of Tamil Nadu. The chairman of the DMK, Stalin, will become the CM. We will smash the BJP and the RSS to pieces. The DMK, Stalin and the Congress will. Never compromise with ideologies and forces that run counter to the interests of Tamils ​​and Tamil Nadu, "Rahul said, addressing an election rally in Adyar.
He said: "Tamil Nadu has a knowledgeable youth and is the human resource capital of India. Anyone who drives a car would know that it was made in Sriperumbudur. "
"But a party seeks to destroy the inherent strengths of Tamil Nadu. This election aims to defeat such an attack, "said Rahul Gandhi.
"Tamil Nadu is a key part of the idea of ​​India. There are also other states under the foundation. But Tamil Nadu is the key. But a state with knowledgeable young people is incapable to offer them employment opportunities, "he added.
"In Congress we believe in mutual respect, love and affection for party officials and leaders of alliance parties. But in BJP you have to touch your feet or bow to the front. Prime Minister Narendra Modi and Interior Minister Amit Shah, "said Rahul Gandhi.
"It pains me to see the Chief Minister of Tamil Nadu, who has a great culture and a great history, bow down to Modi and Shah," said Rahul, turning his attention to Chief Minister Edappadi K Palaniswami.
"Honest people will not bow down to others. Tamil Nadu CM is forced to do so because it is corrupt. That is why I am here and to support the DMK – Congress alliance. We want Tamil Nadu is ruled by Tamils ​​and from here and not from Delhi, "he added.
After the meeting, Rahul Gandhi left for Salem, where he will address a joint public meeting with DMK Chairman MK Stalin and others in the evening.