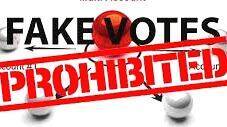 Thiruvananthapuram: The Election Commission has taken strong measures to prevent fraudulent votes in the situation where double votes are widespread in the voters' list. The list of double votes will be given to the electors and political parties. In addition to strengthening police security at more faulty booths, webcasting will also be introduced. Legal action will be taken against the officials who are negligent in preventing fraudulent voting and collusion.
According to the complaints, the Election Commission admitted that there were errors in the voter list. There are entries with the same photo, address and different names. Such errors should be detected and fixed using aeronet and de-duplication software. However, the list cannot be edited in the event that an election is declared.
Steps to prevent fraudulent voting
District Collectors will conduct a special inspection in all the 140 constituencies under the leadership of Electoral Registration Officers and prepare a booth list of recurring votes before the 25th.
The BLOs will go to the field level and check this list and find the real voters.
The original voter will be issued a voter slip and convinced that a vote must be cast.
Accordingly, the list will be prepared and given to the electorate before the 30th, separating the actual and fake votes of the repeat voters.
On polling day, the presiding officers will mark the list of recurring voters separately.
Voters on this list will be kept in the booth until the ink on their fingers dries.
Webcasting / CCTV will be made mandatory in booths with more irregularities in the voter list.