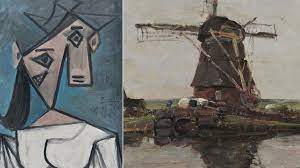 Discovered a rare painting by the legendary painter Pablo Picasso who was liberated years ago. A picture of a woman's head that was lost during a rescue operation nine years ago has been found in the Athens National Gallery.
Also found is a windmill by Dutch painter Pete Mondrine. In 2012, three paintings were stolen from the Athens National Gallery. The images were stolen from their frames. The third picture was later found by police as abandoned by thieves.
The museum had large security equipment and security staff. It took the thieves just seven minutes to cross them with the pictures. It was an event that garnered huge attention globally. The burglars could not be traced even after the investigation was announced. Meanwhile, Greek police said months ago that they believed the two images were in the country.
Picasso himself donated the paintings to the museum in 1949. The picture, painted ten years ago, also features Picasso's signature. Picasso said at the time that he was presenting the film as a mark of respect for the Greek people's resistance to the Nazis.
Flowers and Twentyfour News are teaming up for the Kovid fight
Through the COVID WAR 24X7 campaign. This is a war. The war we are waging together with the sole aim of victory.
Doctor In | Covid Warriors | Stay Home Creative Challenge | Perfect Ok Photography Award | Inspire The Idea Bank
News you want to know
In your Facebook Feed
24 News