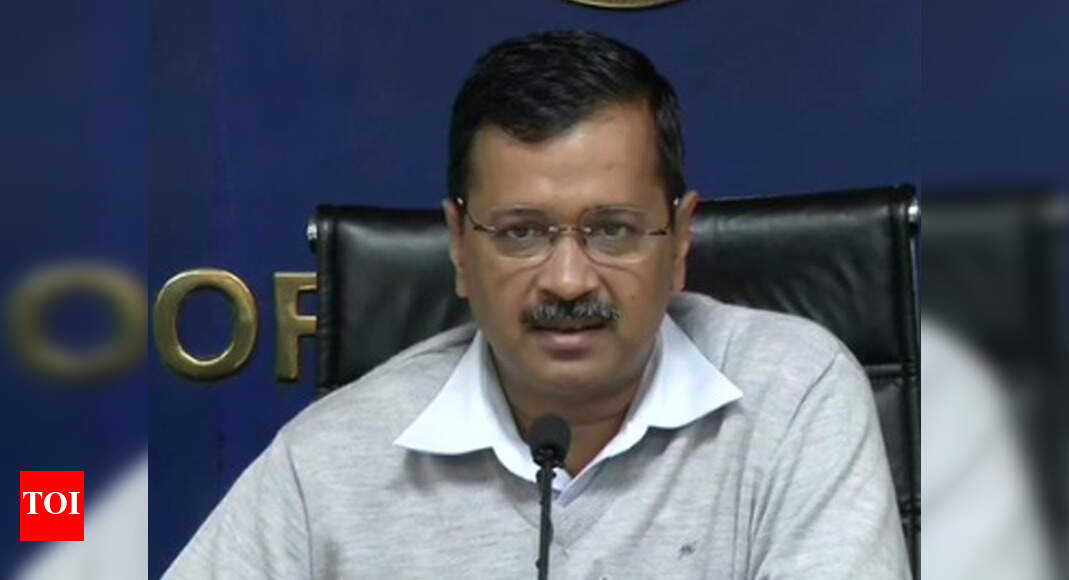 In an exclusive play for TOI, Chief Minister Arvind Kejriwal explains how his government wants to end rote learning to make students good human beings and help them fend for themselves The Delhi government's decision to form the Delhi Board of School Education will impact not only in the capital but also on the education system across the country. In India, each state has its own review committee, but our intention is not to have one for Delhi in the same spirit. Delhi's board will not be just another review board.
The most important question then is: why do we need to set up a Delhi education council now and what do we want to accomplish with this council?
Over the past six years, our country has experienced a revolutionary transformation in Delhi's education system. Our government began with important steps leading to revolutionary changes. We have allocated around 25% of Delhi's budget each year to education.


What was the result?
We have built impressive school buildings and classrooms with world class facilities. The inferiority complex that the previous school infrastructure offered to students, parents and teachers has been replaced by high self-esteem. In a way, public schools have acquired a whole new identity.
The next big reform was about exposing teachers and principals to world-renowned best practices. We sent them to Cambridge, Singapore, Finland, USA, IIM Lucknow and IIM Ahmedabad. Not only that, children who study in our public schools also had the opportunity to participate in the Olympics and won medals.
Our third major step was to make the directors of public schools more accountable. Previously, in each school, the direction of education interfered in the least of the questions related to the installations in the schools. We have improved the power of principals to spend up to Rs 50,000 without asking for any approval for whatever they need for their students.
The fourth major initiative was the introduction of several teaching-learning reforms. We realized that most children who studied in public schools could not even read or solve basic math problems. To overcome this, we have introduced programs like Chunauti and Mission Buniyaad. We launched the Happiness Program in our schools, which has dramatically improved students' interpersonal relationships. We have also introduced the Entrepreneurship Curriculum to help make our children job creators rather than job seekers.
We believe the time has come to take the next important step. With the times ahead and to be among the best in the world, we need to decide what to teach our children, how to teach them, and how to assess learning Through efforts like these, public school results of Delhi have improved dramatically 98%, which is still more than that of private schools. Our students are qualified for JEE and NEET and are admitted to reputable engineering and medical schools and renowned universities. Previously, parents who did not want to send their children to public schools now send them with pride. It also allowed public school students to gain the necessary self-confidence.
We have three goals for our children that we seek to achieve through education
First, we must prepare children to become a real deshbhakt. Upon graduation from school, they should be ready to take responsibility for moving India forward in all fields, be it science, technology, business, politics or social change.
Second, our children must become good human beings. They should not discriminate against their fellow citizens on the basis of their religion, caste, gender or economic status. They should be able to practice equality and live selflessly for their families on the one hand and for society on the other.
Finally, the biggest problem in our country is that, despite high diplomas, young people are unable to find a job. If our young people are sitting at home, unemployed, what good is such education? Therefore, education must enable them to fend for themselves.
Unfortunately, our education system continues to promote rote learning. This means memorizing the lessons and writing them down in a three-hour exam held at the end of each year. We need to change this system because the three educational goals that we seek for every child cannot be achieved by rote learning alone. A full year of a child's hard work cannot be assessed at the end of the year in a three hour exam.
Therefore, Delhi Board of Directors will adopt the approach of continuous assessment of children's learning using advanced technology. It will work with reputable national and international institutions to introduce a more efficient and contemporary assessment process. We believe that every child is unique. Thus, the role of the council would be to identify this uniqueness so that it can be maintained by the school.
We have always believed that all of the country's problems can be solved if we simply improve the education system. Our trip over the past six years to Delhi has been a monumental one and I firmly believe that the formation of this council is the next transformative step through which the educational landscape of the country will change. We sincerely hope and believe that after completing their studies, our children will be ready not only to take care of their families, but also to become good, conscientious human beings who will move the country forward.