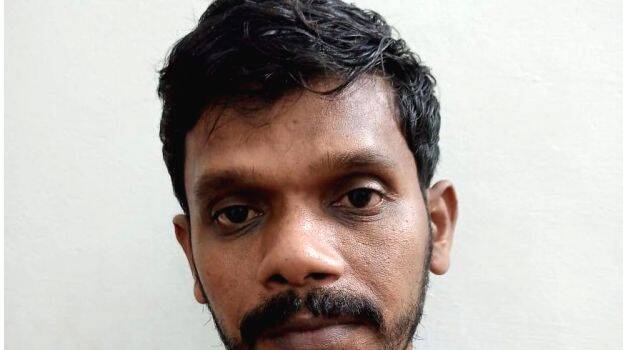 The statement said that the murder was to cover the jewelery
Valanchery: Police have arrested Mohammad Anwar (39, Anootti), a resident of Chottoor Varikodam, for allegedly assaulting and burying a young woman on the way home from work a month and a half ago. The deceased has been identified as Subira Farhat, 21, daughter of Kabir of Chottoor Kizhukaparambattu.
According to the accused, Zubira was killed to steal jewelery due to financial difficulties. Indications are that the defendant needed money for a problem related to misconduct. Only after a scientific examination can it be determined whether there was an attempt at torture.
The remains of the body were found buried 500 meters from the woman's home on Tuesday evening. It was released yesterday morning. The relatives realized that the clothes on the body belonged to Subira. The woman's shoes, hair band and mask were found in the area. Bags, mobile phones and jewelery are to be found.
The remains were shifted to Manjeri Medical College for postmortem. DNA testing will also be done to confirm that it is Subira.
Subeera, who went to work at the dental clinic in Vettichira on the morning of March 10, did not get there. Conducted by householders and locals The accused was also present during the search. Zubira's phone was off. He then lodged a complaint with the police. Subira's footage was obtained from CCTV at a nearby house. But Subira could not be seen on CCTV at another house 100 meters away. With that, the young woman in the area The police concluded that it may have been endangered.
Fearing that the soil at the place where the body was buried would be washed away by the rain, the soil from the nearby brick quarry was shifted to this area using JCB. The JCB driver was forced to do so. The suspicious driver told locals. Upon learning of the information, the police tightened the noose.
According to the statement of the accused, Zubira was killed in the corridor about 100 meters away from the woman's house. The body, which was left in the bushes as there were workers in a field a short distance away, was tied in a sack at noon and buried in a relative's field.
Police examined the burial site following the confession of the accused, who was taken into custody on Tuesday. The accused was brought to the spot yesterday and evidence was taken.
The body will be buried posthumously at the Chottoor Juma Masjid graveyard.
Subira's mother is Subaida. Siblings: Naseeha and Muhammad Aslam.