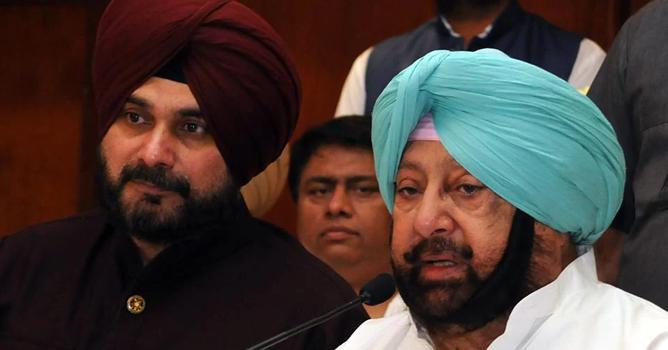 Congress smokes in Punjab; State leaders say they will not accept Sidhu as Congress president
Amritsar: Amarinder Singh-Navjot Singh Sidhu dispute in Punjab has reached a new level. After Sidhu arrived in Delhi and met Rahul Gandhi and Priyanka Gandhi, the leaders of the Amarinder Singh camp reacted.
A section of leaders are of the view that they will not accept any move to make Sidhu the state president. Some said that Sidhu could be made the Deputy Chief Minister if needed.
Sidhu joined the Congress just before the 2017 assembly elections. But there are many leaders in the state who have worked at the grassroots and taken the lead. Their stand is that they should be made party president.
Sidhu met Rahul and Priyanka on Wednesday. Sidhu had come out with a public critique of the various stances of the Punjab Congress.
Sidhu had also criticized Chief Minister Amarinder Singh. Sidhu, who was a member of Amarinder's cabinet, will resign in 2019 due to differences of opinion.
Earlier, Rahul Gandhi had met leaders including Amarinder Singh. The Congress national leadership is gearing up to address the problems in the Punjab Congress in the run-up to next year's elections.
Click here to help finance Dolnews' freelance journalism
DoolNews can also be followed through Telegram and WhatsApp
Content Highlight: Won't accept Navjot Singh Sidhu as state Congress chief, say Punjab Congress leaders